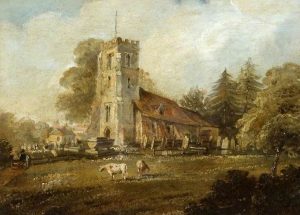 For over 200 years, many hundreds of artists have been based in or near Bushey, either as part of the many local Schools or in local artistic communities. The most famous school is Herkomer's Art School established by Sir Hubert von Herkomer in 1883. Below is a list of some 590 students from Herkomer's Art School from 1883 to 1900. In 1905 Lucy Kemp-Welch, a key student of Herkomer, started her Bushey School of Painting which was located in Art School buildings established by Herkomer. She specialised in 'Figure and Animal Painting from the Living Model'.
If you would like more information on any artist, please ask our Local Studies Centre.
Biographies of Bushey Artists
Here is a list of Biographies of Bushey artists we've already uploaded... we will be adding more over time!
Sir Hubert von Herkomer CVO, RA, 1849–1914  more
Barham, Sybil, 1877-1950  more
Boyd, Graham, born 1928  more
Broome, Myrtle, 1888-1978  more
Chewett, Albert Ranney, 1877–1965  more
Chowns, Douglas (Dougie), born 1937  more
Cowderoy, Kate Ethel, 1875–1972  more
Gabain, Ethel Léontine, 1883–1950  more
Garnier, Geoffrey Sneyd, 1889 - 1970  more
Gear, Mabel, 1898-1987  more
Heath, Frank Gascoigne, 1873 – 1936  more
Johnson, Ernest Borough, 1867–1949  more
Kemp-Welch, Lucy Elizabeth, RI, ROI, RBA, RCA, 1869-1958  more 
Talmage, Algernon 1871–1939  more
Wheelwright, Rowland, 1870–1955  more
Wildig, Anthony, born 1952  more
Woodward, Alice B, 1862-1951  more
Students at Herkomer's Art School
Below is a list of around 590 students who attended Herkomer's Art School between 1883 and 1900 - as listed in the leaflet 'The Herkomer Art School 1883-1900', by Grant Longman, published 1976. Click for a pdf.