God save the King!
Anne Blessley Gallery
22nd April – 4th June 2023
We are hoping to stage an exhibition of children's art work to celebrate the coronation of King Charles III.
A History of Bushey in Embroidery
Anne Blessley Gallery
From 10th June 2023
The story of Bushey from prehistoric times to the present day
Your Favourite Painting
Council Chamber
1st July – January 2024
In October 2023 Bushey Museum will have been open to the public in Rudolph Road for 30 years and the community of Bushey might like the chance of deciding the artwork to be displayed in the Council Chamber. Stewards will have a simple question for all visitors – what is your favourite? – and make a note. The choice can be made from the paintings already on display or from the visual display unit in the Council Chamber, which shows on a screen an up-to-date list of paintings in the Bushey Museum collection.
We are hoping that every single person who knows the Museum, receives the Newsletter, volunteers in the Museum – which includes the Stewards – and everyone who visits the Museum will participate in this anniversary. We will hope to involve local shops and businesses, bringing to attention to all the advantage of having a centre of culture, education, history and enjoyment – and sometimes just peace and quiet – in the middle of Bushey, and the high regard Bushey Museum is held nationally and internationally - and, very importantly, locally.
(Exhibition Organisers: Pat Woollard and John Gerry)
Lucy Kemp-Welch Gallery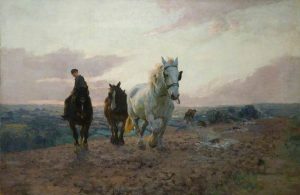 From April 2023
Around the end of March 2023 the large display of Lucy Kemp-Welch paintings, and possibly others, will be taken from the Lucy Kemp-Welch Gallery to be displayed at the Russell-Cotes Art Gallery & Museum in Bournemouth - the town where she was born in 1869 - as part of a grand exhibition of Lucy's works from all over the country.
The Gallery will re-open in April when decorating work has been completed. The plan is to exhibit costume, local history and fine art. The Russell-Cotes Museum is not having on loan the big picture For Life nor Logging in Grizedale, so exhibits will be displayed around these of Lucy's paintings – and others may be included.
(Exhibition Organisers: Margaret Craig Gray, Tony Woollard, John Gerry, Pat Woollard)