Lucy Elizabeth Kemp-Welch, RI, ROI, RBA, RCA (1869-1958)
Lucy Kemp-Welch Gallery
During 2023 many of the Lucy Kemp-Welch paintings will be displayed at the Russell-Cotes Museum, Bournemouth. Two of the very big paintings, i.e. 'For Life' and 'Logging in Grizedale', will stay on display and around these - and maybe some other Lucy paintings - we will exhibit costumes, local history and fine art.
To watch the Lucy Kemp-Welch 'interview' video, click on the picture below.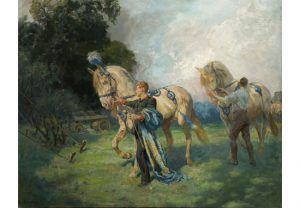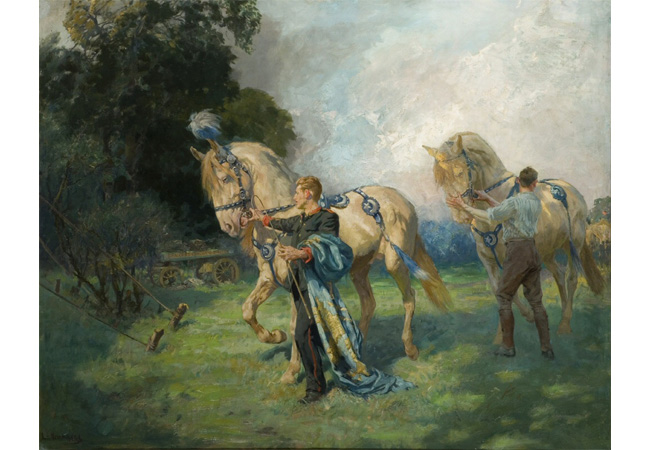 Lucy Kemp-Welch was the foremost painter of horses of her time, especially of working horses. She was an expert horsewoman with an innate feeling for horses and knowledge of their anatomy, and her work constitutes a record of some almost vanished breeds. Her works are in many public collections in Britain, including Tate Britain and the Imperial War Museum, and also in Australia, New Zealand and South Africa.
Lucy and her artist sister Edith grew up in Bournemouth and were encouraged to draw and to study the ponies and wildlife of the New Forest. Their formal art training began at the Bournemouth School of Art. In 1892 she and Edith were admitted as students of the Herkomer Art School and Bushey became their permanent home. Lucy became the most distinguished female graduate of the School. She also became the first President of the Society of Animal Painters and one of the first two women members of the Royal Society of British Artists. Herkomer recognised her unique talent when she showed him her first large painting, Gypsy Horse Drovers, now in the Russell-Cotes Art Gallery in Bournemouth. It was inspired by a herd of horses being driven through Bushey. In 1895 it was hung in the Royal Academy and was followed by one or more paintings every year. She is best known for her illustrations to Anna Sewell's Black Beauty, commissioned by J M Dent in 1915. She also painted other farm animals, wildlife, Bushey scenes and landscapes and a few portraits. After Herkomer closed his art school in 1904, Lucy opened hers and students came from all over the world to study animal painting with her. In 1926 Lucy closed her school and spent several summers following John Sanger's Circus, and painting pictures of circus activities. Her former student, Marguerite Frobisher, then formed the Frobisher School of Painting as a successor to Lucy's school.
The Lucy Kemp-Welch Memorial Trust Collection
View Virtual Tour
This exhibition is of large canvases with horses of all types, in action and at rest. The works show wild ponies running spiritedly across Exmoor; well-groomed polo ponies galloping after the ball; the last horse-launched lifeboat being pulled into a boiling sea; the great Hanoverian creams of Sanger's Circus parading with majestic gait; huge heavy horses pulling felled timber or a circus caravan on the move; hard working farm horses trudging home at the end of the day, their coats glistening in the low evening sun. Not least there is a row of horses of all sizes, colours and disposition, from thoroughbreds to the lowliest carter's horse, standing tethered to a rope barrier, patiently, restlessly or with aristocratic air.
The Exhibition is mounted by kind permission of the Trustees of the Lucy Kemp-Welch Memorial Collection.