About Us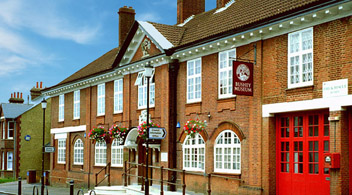 Address
Bushey Museum & Art Gallery
Rudolph Road, Bushey, Hertfordshire, WD23 3HW

Opening hours:
Thursdays     11.00 am to 4.00 pm
Fridays           11.00 am to 4.00 pm
Saturdays      11.00 am to 4.00 pm
Sundays         Closed
Important note: Visitors are requested to wear a face covering in the Museum, observe social distancing and sign in for Track and Trace.
Phone
Museum - 020 8950 3233
Opening times: Thu-Sat 11am - 4pm
Office - 020 8420 4057
Opening times: Wed-Fri 10am - 4pm
Who are we?
The Bushey Museum & Art Gallery in Bushey, Hertfordshire has a local history collection, plus a major art collection spanning 200 years, with paintings, prints and drawings, sculpture, Bushey Heath lustre pottery and historic church silver as well as costume and embroidery.
The Museum has a unique artistic history - which is of national significance - and it majors on Sir Hubert von Herkomer RA with works of art, artefacts and ephemera relating to him and his famous Art School in Bushey. There is also a major collection of paintings by Herkomer's student Lucy Kemp-Welch, as well as works by other artists drawn to Bushey by its artistic reputation.
Art UK say on their website: "...the art collection is the largest in Hertfordshire and is mainly from the nineteenth and twentieth centuries, with special interest in the Monro Circle of artists, Sir Hubert von Herkomer, Lucy Kemp-Welch and the pupils of their Art Schools and other Bushey art schools."
Located in an Edwardian former Council building close to Bushey High Street, it features galleries with displays of local history; Herkomer and Lucy Kemp-Welch paintings and memorabilia, as well as other Galleries with changing displays, see What's-On.
Click on Museum Shop to see the wide range of local history books, greetings cards featuring local artists' pictures - and much more - which can be bought in the Shop at the Museum, or via this website. And there is also a link to the Art UK website (see below as well) where you can buy prints of over 120 paintings from our Collection. Well worth a look!
There is a Meeting Room which is available for hire to local societies or individuals for meetings, talks, etc.
Parking and Accessibility
There is limited on-site free parking and additional parking in Kemp Place (chargeable!) which is off the High Street opposite Rudolph Road. For more information about Accessibility click here.
The Visit Us page tells you how to get to the Museum.
The About Us page gives you more about the history of the Museum and what we have to offer.
The What's On page includes details of all of our current Exhibitions.
Arts Council England
Bushey Museum and Art Gallery has Full Accreditation status with the Arts Council England (RD 1048). Visit their site here.
Art UK
Bushey Museum and Art Gallery is an Art UK Founder Partner. Visit their website here to see over 1000 of the paintings in our collection! And also visit their Art UK Shop herewhere you can buy prints of over 120 of the pictures in our collection!
Charity Commission
Bushey Museum Trust is a registered charity with the Charity Commission in England and Wales No. 294261.
© 2022, Bushey Museum Trust, a company limited by guarantee (England 01937575).
Bushey Museum is installing a defibrillator to honour the memory of Gareth Wood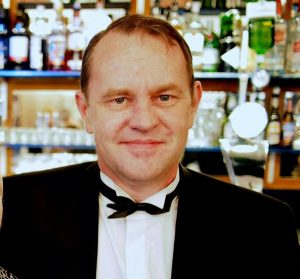 Exciting news! We have reached our funding target, and expect the arrival of the defibrillator in a few weeks!
Bushey Museum has decided to install a defibrillator to honour the memory of Gareth Wood, who died in August 2021, aged 53. Gareth was our former Buildings Manager and a well-loved member of the Bushey community. He hated any kind of flummery or fuss and we feel he would have approved of the practical nature of this memorial, which will be of benefit to the whole village.
Having the defibrillator installed means that it can be deployed to give the patient the all-important shock to the heart prior to the ambulance arrival. The defibrillator is by no means a replacement to the ambulance service, it just allows patient treatment to commence immediately. Importantly, anyone can use these devices and no special training is required. Time is of the essence in these cases, and prompt defibrillation can literally save lives.
Current Exhibitions
Friends' Contribution: Artworks donated with funds rasied by the Friends of Bushey Museum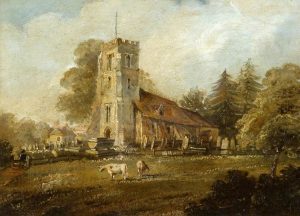 Council Chamber
From 22nd January – 11th June 2022
One of the many valuable roles of the Friends is help raise funds purchase paintings and other items for the Museum. This exhibition displays many artworks which the Friends have financed over the last 30+ years. It is also testament to the time, energy, hard work and dedication so many Friends given to make Bushey Museum an outstanding cultural centre of local history and art. More
Face to Face – Portraits by Bushey Artists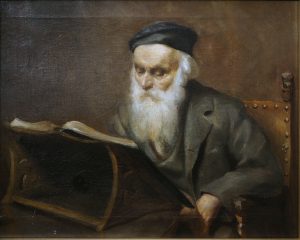 Anne Blessley Gallery
Until May 2022
This exhibition features self-portraits by artists, and portraits by artists of artists. It includes is a splendid new acquisition: a painting of John Herkomer, Hubert's uncle, by Ernest Borough Johnson. Most of the portraits are by artists, who worked alongside their sitters; the majority of self-portraits are by Herkomer students, which reflects his focus on life drawing.  More
On the Move: getting about in Bushey
Jubilee Room
from 22 August 2021
An exhibition displaying how getting about in Bushey relied on the various modes of transport available.
Future Exhibitions
To be added.
Ground floor galleries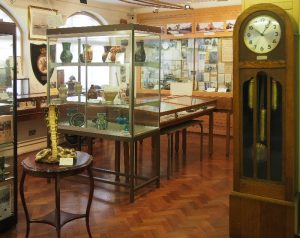 The gallery gives a social history of Bushey with maps, extracts of medieval documents, and some ancient artefacts. It includes local industries, schools, police and fire brigade history, the World Wars, transport, celebrities, Bushey Pottery, and more.   More.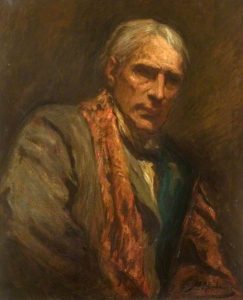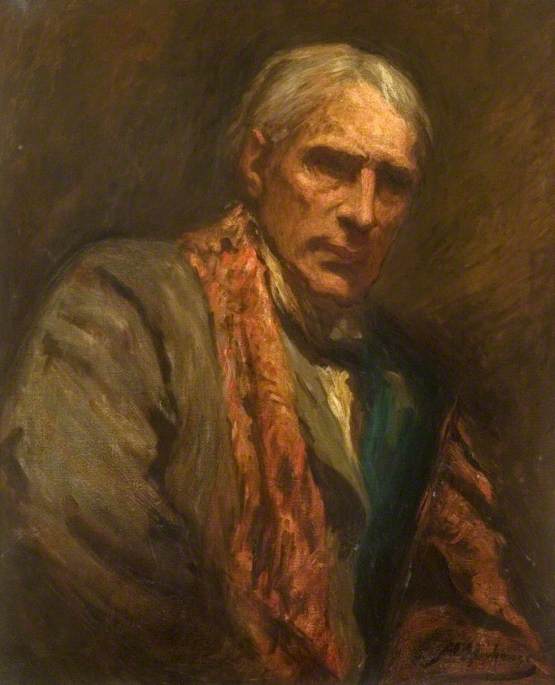 Hubert von Herkomer Gallery
The life, work and castle of Sir Hubert von Herkomer RA, also his School of Art, and including some of his most notable paintings. More.
Lucy Kemp-Welch Gallery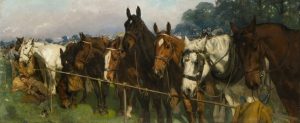 A selection of large canvases featuring horses painted by Lucy Kemp-Welch (1869-1958). More.
Photographic Competition 2021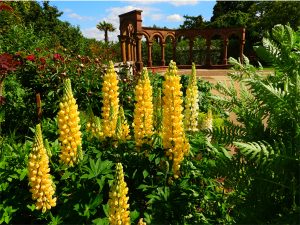 Click here to see the Winners of the 2021 Photographic Competition, along with the Highly Commended and Commended pictures, as well as the rest of the 90+ entries this year! A selection of these photos will be displayed in the Jubilee Room from 3rd July. The photo, right, is the Winner of the Bushey Class, 'Bushey Rose Garden' by Stephen Danzig.
Artist of the Month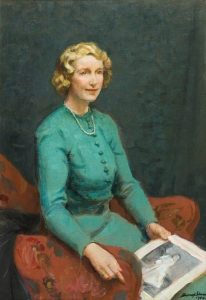 He was a painter in oils, watercolours, tempera and pastel of portraits, figure subjects and landscapes. He was also an important lithographer, etcher and charcoal draughtsman, and was distinguished as a writer on techniques of drawing. He studied at the Herkomer Art School from 1887. To see more click here.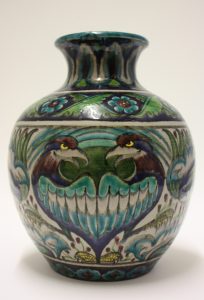 The Museum has a significant collection of Bushey Heath Pottery items from the 1920's. William De Morgan was a celebrated London-based designer and potter of lustre-ware, polychrome pottery items. In the 1920s there was renewed interest in his artistic pottery, and Mrs Ida Perrin, a great admirer of his work, set up a pottery at their weekend house The Cottage in Bushey Heath. Fred Passenger was employed to make pottery to De Morgan's designs.
Also in the 1920s Ida Perrin funded a new gallery extension to Leighton House which also acquired lots of De Morgan's pottery, and many items from the Bushey Heath Pottery. And 2019 Leighton House generously donated their Bushey Heath Pottery collection to the Bushey Museum.
To see more click here.
Bushey Museum Jigsaws!
Fancy doing an online jigsaw? Just click on the picture... enjoy! And click here  to see more jigsaws!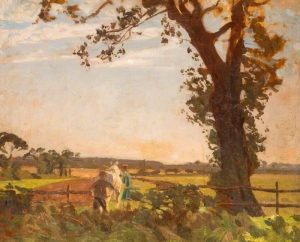 Linen Testers
Exhibition in the Jubilee Case
Some people collect the oddest things: we are currently displaying a collection of thread counters, also known as linen testers. Over many years Christopher Jordan has collected these items. Their purpose is in the name: to check the number of 'warp and weft' threads in a piece of fabric. They were also - and still are - used in the printing and photographic trade for quality control. They come in all shapes and sizes, with fixed or sliding lenses: most are unmarked, but some have the name of the maker, country and place where they were made, others the retailer or the cloth factory that bought them, or maybe scratched with the owners' name. Do come and see!
Friends Outings, Meetings & Events
Outings
Southill House, Bedfordshire
Friday 10th June, 2022
We shall arrive for coffee & biscuits at 10.30am and have a guided tour of the house. We shall then continue into Bedford, where the Group can find lunch and visit the Museums or enjoy the town.
The coach will leave the Bushey Country Club car park at 9.00am and plans to return to Bushey approx 5.00pm
Cost and booking details to be confirmed.
Hatfield House
Saturday 9th July, 2022
This follows the talk from one of the House Guides 2 years ago. We shall have a guided tour of the House, and can arrive to have coffee before entering the house for the tour. After the Tour there will be free time to explore the gardens and have lunch. Depending on restrictions, we could continue into St. Albans, visit Verulamium Museum, and/or the Abbey or St. Albans Museum.
The coach will leave the Bushey Country Club car park at 9.30am and plans to return to Bushey by 6.00pm.
Details of itinerary, cost and booking details to be confirmed.