About Us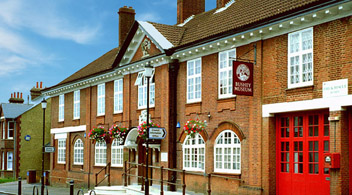 Address
Bushey Museum & Art Gallery
Rudolph Road, Bushey, Hertfordshire, WD23 3HW

Opening hours:
Thursdays     11.00 am to 4.00 pm
Fridays            11.00 am to 4.00 pm
Saturdays      11.00 am to 4.00 pm
Sundays         Closed (except 14 Nov - see poster opposite!)
Important note: Visitors are requested to wear a face covering in the Museum, observe social distancing and sign in for Track and Trace.
Phone
Museum - 020 8950 3233
Opening times: Thu-Sat 11am - 4pm
Office - 020 8420 4057
Opening times: Wed-Fri 10am - 4pm
Who are we?
The Bushey Museum & Art Gallery in Bushey, Hertfordshire shows local Bushey history from the earliest of times with displays of archaeology, artefacts, documents and historical maps, and which cover Bushey's social and business heritage.
The Museum has a unique artistic history which is of national significance: it majors on Sir Hubert von Herkomer RA with works of art, artefacts and ephemera relating to him and his famous Art School in Bushey. There is also a major collection of paintings by Herkomer's student Lucy Kemp-Welch, as well as works by other artists drawn to Bushey by its artistic reputation.
Art UK say on their website: "...the art collection is the largest in Hertfordshire and is mainly from the nineteenth and twentieth centuries, with special interest in the Monro Circle of artists, Sir Hubert von Herkomer, Lucy Kemp-Welch and the pupils of their Art Schools and other Bushey art schools."
Located in an Edwardian former Council building close to Bushey High Street, it features galleries with displays of local history; Herkomer and Lucy Kemp-Welch paintings and memorabilia, as well as other Galleries with changing displays, see What's-On.
Click on Museum Shop to see the wide range of local history books, greetings cards featuring local artists' pictures - and much more - which can be bought in the Shop at the Museum, or via this website. And there is also a link to the Art UK website (see below as well) where you can buy prints of over 120 paintings from our Collection. Well worth a look!
There is a Meeting Room which is available for hire to local societies or individuals for meetings, talks, etc.
Parking and Accessibility
There is limited on-site free parking and additional parking in Kemp Place (chargeable!) which is off the High Street opposite Rudolph Road. For more information about Accessibility click here.
The Visit Us page tells you how to get to the Museum.
The About Us page gives you more about the history of the Museum and what we have to offer.
The What's On page includes details of all of our current Exhibitions.
Arts Council England
Bushey Museum and Art Gallery has Full Accreditation status with the Arts Council England (RD 1048). Visit their site here.
Art UK
Bushey Museum and Art Gallery is an Art UK Founder Partner. Visit their website here to see over 1000 of the paintings in our collection! And also visit their Art UK Shop here where you can buy prints of over 120 of the pictures in our collection!
Charity Commission
Bushey Museum Trust is a registered charity with the Charity Commission in England and Wales No. 294261.
© 2021, Bushey Museum Trust, a company limited by guarantee (England 01937575).
Enter the prize draw for an original Gordon Metcalfe watercolour!
This watercolour painting 'St James's Pond', 29.5 x 37 cm, is the prize in a draw! All proceeds will be donated equally between the Stroke Association and Bushey Museum. Click here for more information and to buy tickets!
Exhibitions & more
Travels with my Sketchbook – Beyond Bushey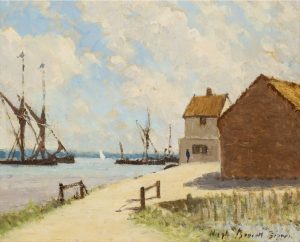 Council Chamber
Until 9th January 2022
Many Bushey artists from Herkomer's School of Art, as well as those who came after, travelled from far and wide with their palettes, either throughout the British Isles or abroad. This exhibition shows many works which continued the dissemination of Bushey's artistic heritage. More.
The Young Generation - Art by and about children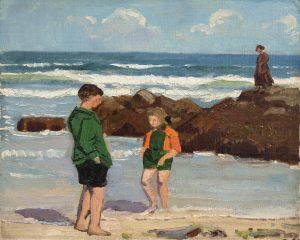 Anne Blessley Gallery
Until 31 October 2021
A good number of artworks in the Museum's collection involve children, including portraits of children; pictures that feature children; art specifically directed at children, and as well as art work by children. The exhibition encompasses all this, as well as children's costumes and toys. More.
On the Move: getting about in Bushey
Jubilee Room
from 22 August 2021
An exhibition displaying how getting about in Bushey relied of the various modes of transport available.
Future Exhibitions
Face to Face – Portraits by Bushey Artists
from 6 November 2021
A display of self-portraits by artists, and portraits by artists of artists. It includes a splendid new acquisition of John Herkomer, Hubert's uncle, by Ernest Borough Johnson.  More
Friends' Contribution
from 22 January 2022
As the Friends of Bushey Museum near the 40th anniversary, this exhibition will display many of the donations the Museum has received over the years.  More
Ground floor galleries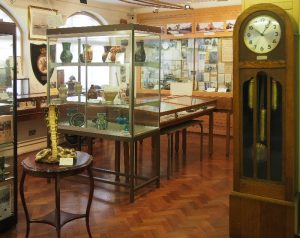 The gallery gives a social history of Bushey with maps, extracts of medieval documents, and some ancient artefacts. It includes local industries, schools, police and fire brigade history, the World Wars, transport, celebrities, Bushey Pottery, and more.   More.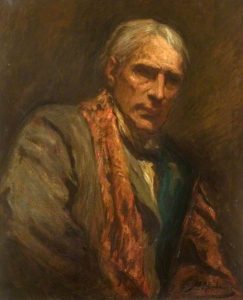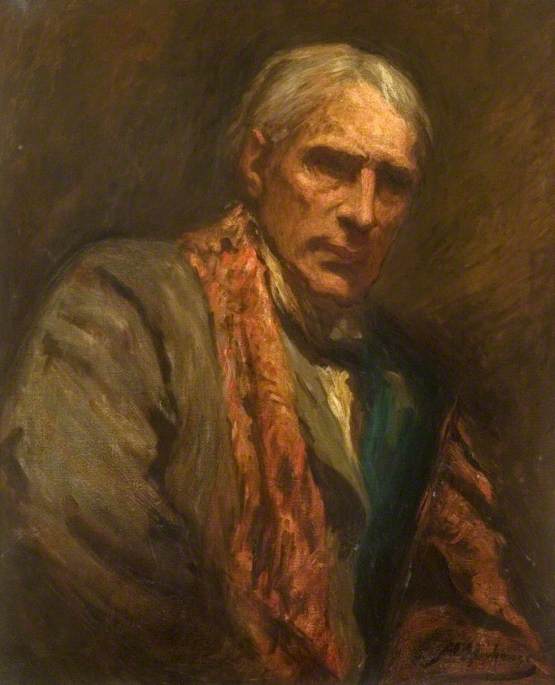 Hubert von Herkomer Gallery
The life, work and castle of Sir Hubert von Herkomer RA, also his School of Art, and including some of his most notable paintings. More.
Lucy Kemp-Welch Gallery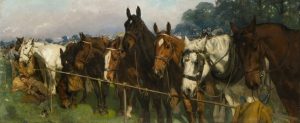 A selection of large canvases featuring horses painted by Lucy Kemp-Welch (1869-1958). More.
Photographic Competition 2021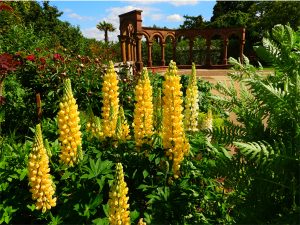 Click here to see the Winners of the 2021 Photographic Competition, along with the Highly Commended and Commended pictures, as well as the rest of the 90+ entries this year! A selection of these photos will be displayed in the Jubilee Room from 3rd July. The photo, right, is the Winner of the Bushey Class, 'Bushey Rose Garden' by Stephen Danzig.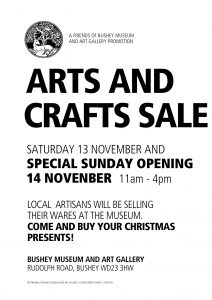 Linen Testers
Exhibition in the Jubilee Case
Some people collect the oddest things: we are currently displaying a collection of thread counters, also known as linen testers. Over many years Christopher Jordan has collected these items. Their purpose is in the name: to check the number of 'warp and weft' threads in a piece of fabric. They were also - and still are - used in the printing and photographic trade for quality control. They come in all shapes and sizes, with fixed or sliding lenses: most are unmarked, but some have the name of the maker, country and place where they were made, others the retailer or the cloth factory that bought them, or maybe scratched with the owners' name. Do come and see!
Artist of the Month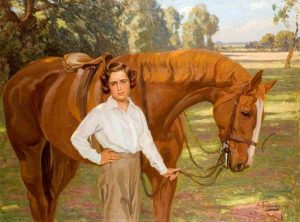 In 1892 he joined the Herkomer school in Bushey and in 1894 moved to St. Ives, Cornwall. He was an Impressionist, primarily as a painter of landscapes and animals.
To see more click here.
Bushey Museum Jigsaws!
Fancy doing an online jigsaw? Just click on the picture... enjoy!
And click here  to see more jigsaws!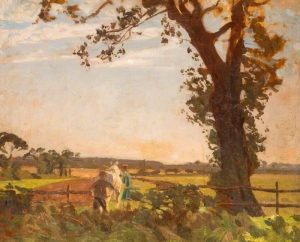 #CollectingCovid Campaign
Hertsmere Museums are seeking to collect objects and first hand experiences to reflect local people's lives during the Covid-19 Pandemic.  Hertsmere's Museums want to document and record this time to ensure future generations will be able to learn about and understand this extraordinary period. For more information about what sort of objects we are looking for, and how to submit them, click here.
Click here to read more about our series of 'Voices from the Past' booklets about the history of Bushey!
Friends Outings, Meetings & Events
Soon we will start planning Friends Meetings, Events and Outings again. Do keep checking in the Friends Newsletters and on this website for updates!