About Us
Address
Bushey Museum & Art Gallery
Rudolph Road, Bushey, Hertfordshire, WD23 3HW
Open
Thursdays to Sundays  11am to 4pm
Admission free
Phone
Galleries 020 8950 3233  Thu-Sun  11am - 4pm
Office 020 8420 4057     Wed-Fri  9.30am - 5pm
Overview
The Bushey Museum & Art Gallery in Bushey, Hertfordshire shows local Bushey history from the earliest of times with displays of archaeology, artefacts, documents and historical maps, and which cover Bushey's social and business heritage.
The Museum has a unique artistic history which is of national significance: it majors on Sir Hubert von Herkomer RA with works of art, artefacts and ephemera relating to him and his famous School of Art in Bushey. There is also a major collection of paintings by Herkomer's student Lucy Kemp-Welch, as well as works by other artists drawn to Bushey by its artistic reputation.
Located in an Edwardian former Council building close to Bushey High Street, it features galleries with displays of local history; Herkomer and Lucy Kemp-Welch paintings and memorabilia, as well as other Galleries with changing displays, see What's-On.
Click on Museum Shop to see the wide range of local history books, greetings cards featuring local artists' pictures - and much more - which can be bought in the Shop at the Museum, or via this website. And you will also see a link to the Art UK website where you can buy prints of over 120 paintings from our Collection. Well worth a look!
Parking and Accessibility
There is limited on-site free parking and additional free public parking in Kemp Place which is off the High Street opposite Rudolf Road. For more information about Accessibility click here.
The Visit Us page tells you how to get to the Museum.
The About Us page gives you more about the history of the Museum and what we have to offer.
The What's On page includes details of all of our current Exhibitions.
Arts Council England
Bushey Museum and Art Gallery has Full Accreditation status with the Arts Council England (RD 1048). Visit their site here.
Art UK
Bushey Museum and Art Gallery is an Art UK Founder Partner. Visit their website here to see over 1000 of the paintings in our collection! And also visit their Art UK Shop here where you can buy prints of over 120 of the pictures in our collection!
Charity Commission
Friends of Bushey Museum is a registered charity with the Charity Commission in England and Wales No. 1039713.
Exhibitions & more
Art Gallery, 13 April to 28 July 2019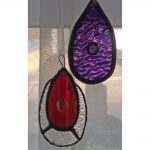 A selling exhibition, in which Chandos Arts and Crafts present a new collection of their members' work. As well as painters who use a variety of media and work in different styles, this group of friends has craftsmen/ women who work with glass, wood, textiles, ceramics and jewellery to create a varied and interesting display. More.
The Classes for this years competition are:
-   'Emotions in colour' Class - digital images.
-   Bushey Class - digital images.
-   Open Class - prints.
Closing date for entries is 19 June. More.
We'll be adding more about artists from Herkomer's School of Art over time. Here's a start: More.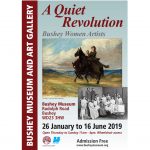 The Herkomer School of Art in Bushey was innovative in a number of ways but particularly in its acceptance of women students working alongside their fellow male students. This at a time when the domestic sphere was considered to be the cultural expression of the female world. Council Chamber, until 16 June 2019.  More.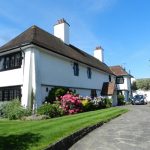 Around 1900, some houses by the Architects Charles Voysey and Washington Broome were built in Bushey, many of them in the Arts and Crafts style. Some twenty of them are featured in the exhibition. All on Hertsmere's Local List and some are Grade 2 listed. Jubilee Room until 19 May 2019. More.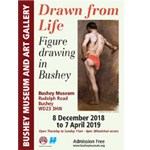 A "life drawing" is a drawing of the human figure from observation of a live model. It may be used as a sketch towards a finished painting or as the subject itself. The Herkomer School of Art provided life classes for both male and female students and this exhibition displays examples of their work as well as studies by other Bushey artists. Art Gallery, until 7 April 2019. More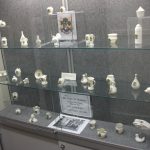 The latest addition to the Local History gallery is a comprehensive display of Crested China with the Bushey Crest based on the design of Lucy Kemp-Welch. The gallery gives a social history of Bushey with maps, extracts of medieval documents, and some ancient artefacts. It includes local industries, schools, police and fire brigade history, the World Wars, transport, celebrities, Bushey Pottery, and more. Ground floor galleries, permanent display.  More.
The life, work and castle of Sir Hubert von Herkomer RA, also his School of Art, and including some of his most notable paintings. Hubert von Herkomer Gallery, permanent display.  More.
A selection of large canvases featuring horses painted by Lucy Kemp-Welch (1869-1958). Lucy Kemp-welch Gallery, permanent display.  More.
Friends Meetings, Events & more
Tuesday 19 March at 8.00pm
Meeting:  Bushey's Railway History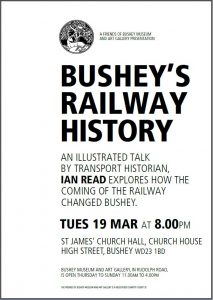 Transport historian Ian Read explores how the coming of the railway changed Bushey. At the St. James' Church Hall, Church House, High Street, Bushey WD23 1BD.
Thursday 21 March
Outing:  Visit to Stanley Spencer Gallery, Cookham and Greys Court, Henley (National Trust) 
Includes a tour round the Gallery and a walk around Cookham village where Stanley Spencer lived and see vantage points for his paintings. Then a visit to the house and grounds of Greys Court. For more details click here.
Saturday 23 March from 10.30am to 1.30pm
Event:  Bring and Buy Sale
This will take place in the Meeting Room behind Bushey Museum. Bring something – Buy something, and raise money for our Museum. Good quality items - unwanted gifts, toys, plants, cakes and produce, books, white elephants etc. (no electrical items). Items accepted in the Meeting Room only on Friday 22 March from 2pm – 4pm and until 10am on the day of the sale.
Saturday 6 April at 10.30am starting from Bushey Museum
Event:  Village Trail – St. James' Churchyard Part 1
The history and stories of those who are buried at St. James' Church. Tickets £8.00 each, sold on the day.
Refreshments (not included) will be available after the Trail at Church Hall, Church House, St. James' Church.
Tuesday 9 April at 6.30pm for 7.00pm sharp.
Event:  Dinner and Quiz Night at the Blue Check Restaurant, High Street, Bushey WD23 3DH.
This is an opportunity not to be missed to have a fun evening and raise funds for the Friends of Bushey Museum. Our Quizmaster will be Peter McNulty. Why not make up a table with friends?
Tickets to include 2-course dinner (not including drinks) are £25 each. Book early using the booking form in the Member's Events Leaflet.
Tuesday 16 April at 8.00pm
Meeting:  "Blessed are the Cheesemakers"
John Pearson, international cheese judge and Cheese Personality of the Year (2011) describes some encounters with suppliers, impossible customers and will conclude with a short, tutored cheese-tasting. At the St. James' Church Hall, Church House, High Street, Bushey WD23 1BD.
Thursday 23 May
Outing:  Visit to Farleys House, East Sussex
A tour of Farleys House which was the home of Lee Miller and Roland Penrose, the home of the Surrealists. Lee Miller was a photographer and Roland Penrose, a painter. Visit also the Sculpture Garden. For more details click here.
Wednesday 5 June at 7.00pm
Event:  Concert by Students of the Purcell School.
at The Purcell School, Aldenham Road, Bushey, WD23 2TS. A concert performed by young soloists and chamber ensembles.
Please note the location, date and time of this event!
Saturday 15 June
Outing:  Visit to Gainsborough's House in Sudbury, Suffolk
Whole day outing by coach, visiting Gainsborough's House, Museum and Gallery with time to explore Sudbury, then on to Braintree Museum. For more details click here.
---
OUT AND ABOUT
Royal Albert Memorial Museum, Exeter
'Women Artists'
Open until 9 June 2019 in Gallery 20. Shining a spotlight on women artists, including Lucy Kemp-Welch, in RAMM's fine art collection, this exhibition features works from the 1770s until 2011.