About Us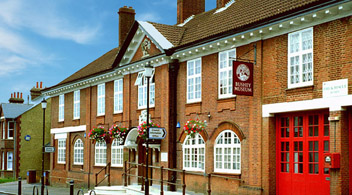 Address
Bushey Museum & Art Gallery
Rudolph Road, Bushey, Hertfordshire, WD23 3HW

Opening hours:
Thursdays     11.00 am to 4.00 pm
Fridays            11.00 am to 4.00 pm
Saturdays      11.00 am to 4.00 pm
Sundays         11.00 am to 4.00 pm 
Note:
Christmas Eve we will close at 1.30pm
New Year's Eve we will close at 1.30pm
New Year's Day we will be closed
Phone
Museum - 020 8950 3233
Opening times: Thu-Sun 11am - 4pm
Office - 020 8420 4057
Opening times: Wed-Fri 10am - 4pm
Who are we?
The Bushey Museum & Art Gallery in Bushey, Hertfordshire has a local history collection, plus a major art collection spanning 200 years, with paintings, prints and drawings, sculpture, Bushey Heath lustre pottery and historic church silver as well as costume and embroidery.
The Museum has a unique artistic history - which is of national significance - and it majors on Sir Hubert von Herkomer RA with works of art, artefacts and ephemera relating to him and his famous Art School in Bushey. There is also a major collection of paintings by Herkomer's student Lucy Kemp-Welch, as well as works by other artists drawn to Bushey by its artistic reputation.
Art UK say on their website: "...the art collection is the largest in Hertfordshire and is mainly from the nineteenth and twentieth centuries, with special interest in the Monro Circle of artists, Sir Hubert von Herkomer, Lucy Kemp-Welch and the pupils of their Art Schools and other Bushey art schools."
Located in an Edwardian former Council building close to Bushey High Street, it features galleries with displays of local history; Herkomer and Lucy Kemp-Welch paintings and memorabilia, as well as other Galleries with changing displays, see What's-On.
Click on Museum Shop to see the wide range of local history books, greetings cards featuring local artists' pictures - and much more - which can be bought in the Shop at the Museum, or via this website. And there is also a link to the Art UK website (see below as well) where you can buy prints of over 120 paintings from our Collection. Well worth a look!
There is a Meeting Room which is available for hire to local societies or individuals for meetings, talks, etc.
Parking and Accessibility
There is limited on-site free parking and additional parking in Kemp Place (chargeable!) which is off the High Street opposite Rudolph Road. For more information about Accessibility click here.
The Visit Us page tells you how to get to the Museum.
The About Us page gives you more about the history of the Museum and what we have to offer.
The What's On page includes details of all of our current Exhibitions.
Arts Council England
Bushey Museum and Art Gallery has Full Accreditation status with the Arts Council England (RD 1048). Visit their site here.
Art UK
Bushey Museum and Art Gallery is an Art UK Founder Partner. Visit their website here to see over 1000 of the paintings in our collection! And also visit their Art UK Shop herewhere you can buy prints of over 120 of the pictures in our collection!
Charity Commission
Bushey Museum Trust is a registered charity with the Charity Commission in England and Wales No. 294261.
© 2022, Bushey Museum Trust, a company limited by guarantee (England 01937575).
Current Exhibitions
Love among the Easels – the Herkomer School and Romance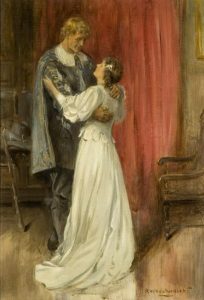 Council Chamber
Until January 2023
The artworks in this exhibition are by a number of those students who met their partners while at the Herkomer School of Art - at least those that are recorded. It is likely that among nearly 600 students over 21 years there were many more affaires de coeur! More.
Colonising Cornwall: Bushey Artists in the West Country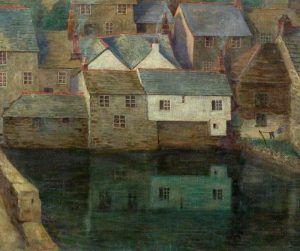 Until 16 April 2023 
Once Bushey artists had completed their studies, some of them went to art colonies in Cornwall to experience the wonderful quality of Cornish light, and more. More.
William Hoather (1872 -1943) — Photographer 
Jubilee Room
Hoather  moved to Bushey Heath in 1903 as an established photographer. His shop 'The Photo Nest' in the High Road flourished until 1926. A large collection of his glass plates and platinotype prints were donated to the Museum by his son Mr Max Hoather, and form the basis for this exhibition. More.
Future Exhibitions
Kate Cowderoy and the Bushey Art Colony
Council Chamber
From 21st January 2023
Kate Cowderoy's active artistic life started when she joined the Herkomer Art School in 1899. She and her family settled in Bushey and became part of the artistic community that developed as a result of the reputation of the Herkomer School and the attraction of studio accommodation and the availability of good art teachers. More.
Your Favourite Painting
Anne Blessley Gallery
From 22nd April 2023
In October 2023 Bushey Museum will have been open to the public in Rudolph Road for 30 years! We are offering anyone in the Bushey community to help choose which artwork will be displayed in this gallery. Do let us know! To find out how to vote click on more.
Lucy Kemp-Welch Gallery
From April 2023
In April 2023 the Lucy Kemp-Welch paintings in our Gallery will be displayed at a Museum in Bournemouth - the town where she was born in 1869 - as part of a grand exhibition of Lucy's works from all over the country. And while our Gallery is free, we will show items rarely exhibited - or not previously exhibited. More
Pastimes in Past Times:
Bushey before TV
A selection of photographs showing how Bushey people spent their leisure time before the advent of television.
Ground floor galleries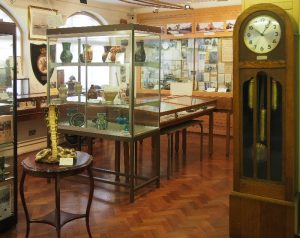 The gallery gives a social history of Bushey with maps, extracts of medieval documents, and some ancient artefacts. It includes local industries, schools, police and fire brigade history, the World Wars, transport, celebrities, and more! More.
This gallery also includes a collection of Bushey Heath Pottery, for more information, click here.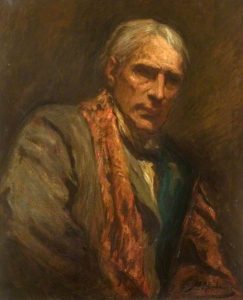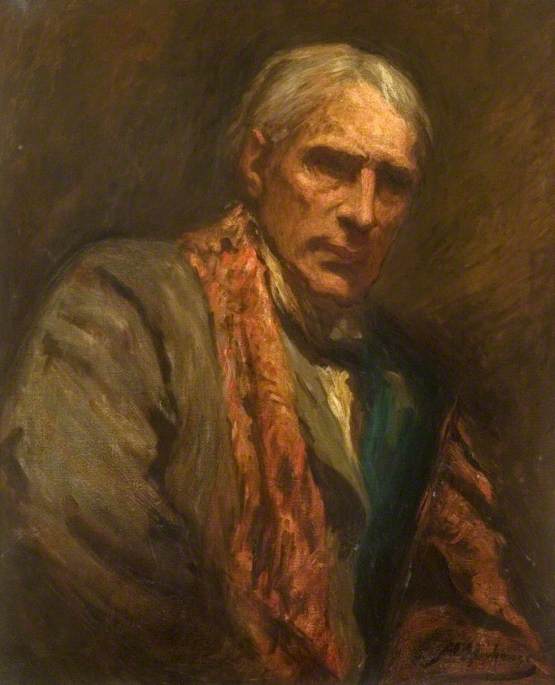 Hubert von Herkomer Gallery
The life, work and castle of Sir Hubert von Herkomer RA, also his School of Art, and including some of his most notable paintings. More.
Lucy Kemp-Welch Gallery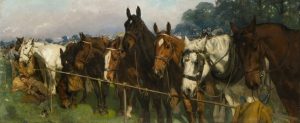 A selection of large canvases featuring horses painted by Lucy Kemp-Welch (1869-1958).More.
Photographic Competition 2021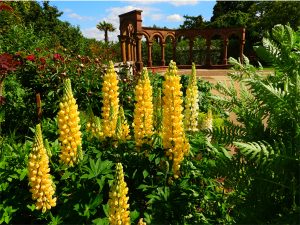 Click here to see the Winners of the 2021 Photographic Competition, along with the Highly Commended and Commended pictures, as well as the rest of the 90+ entries this year!  The photo, right, was the Winner of the Bushey Class, 'Bushey Rose Garden' by Stephen Danzig.