About Us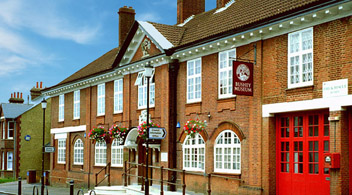 Address
Bushey Museum & Art Gallery
Rudolph Road, Bushey, Hertfordshire, WD23 3HW
Open
Thursdays to Sundays  11am to 4pm
Admission free

Phone
Museum 020 8950 3233      Thu-Sun  11am - 4pm
Office 020 8420 4057        Wed-Fri  9.30am - 4pm
Who are we?
The Bushey Museum & Art Gallery in Bushey, Hertfordshire shows local Bushey history from the earliest of times with displays of archaeology, artefacts, documents and historical maps, and which cover Bushey's social and business heritage.
The Museum has a unique artistic history which is of national significance: it majors on Sir Hubert von Herkomer RA with works of art, artefacts and ephemera relating to him and his famous Art School in Bushey. There is also a major collection of paintings by Herkomer's student Lucy Kemp-Welch, as well as works by other artists drawn to Bushey by its artistic reputation.
Art UK say on their website: "...the art collection is the largest in Hertfordshire and is mainly from the nineteenth and twentieth centuries, with special interest in the Monro Circle of artists, Sir Hubert von Herkomer, Lucy Kemp-Welch and the pupils of their Art Schools and other Bushey art schools."
Located in an Edwardian former Council building close to Bushey High Street, it features galleries with displays of local history; Herkomer and Lucy Kemp-Welch paintings and memorabilia, as well as other Galleries with changing displays, see What's-On.
Click on Museum Shop to see the wide range of local history books, greetings cards featuring local artists' pictures - and much more - which can be bought in the Shop at the Museum, or via this website. And thre is a link (see below) to the Art UK website where you can buy prints of over 120 paintings from our Collection. Well worth a look!
There is a Meeting Room which is available for hire to local societies or individuals for meetings, talks, etc.
Parking and Accessibility
There is limited on-site free parking and additional free public parking in Kemp Place which is off the High Street opposite Rudolf Road. For more information about Accessibility click here.
The Visit Us page tells you how to get to the Museum.
The About Us page gives you more about the history of the Museum and what we have to offer.
The What's On page includes details of all of our current Exhibitions.
Arts Council England
Bushey Museum and Art Gallery has Full Accreditation status with the Arts Council England (RD 1048). Visit their site here.
Art UK
Bushey Museum and Art Gallery is an Art UK Founder Partner. Visit their website here to see over 1000 of the paintings in our collection! And also visit their Art UK Shop here where you can buy prints of over 120 of the pictures in our collection!
Charity Commission
Bushey Museum Trust is a registered charity with the Charity Commission in England and Wales No. 294261.
© 2019, Bushey Museum Trust, a company limited by guarantee (England 01937575).
Exhibitions & more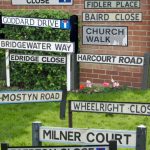 Anne Blessley Gallery
Until 26 January 2020
Many of the thoroughfares in Bushey include the name of an artist with local connections, confirming the influence of the art community that thrived here in Bushey. More.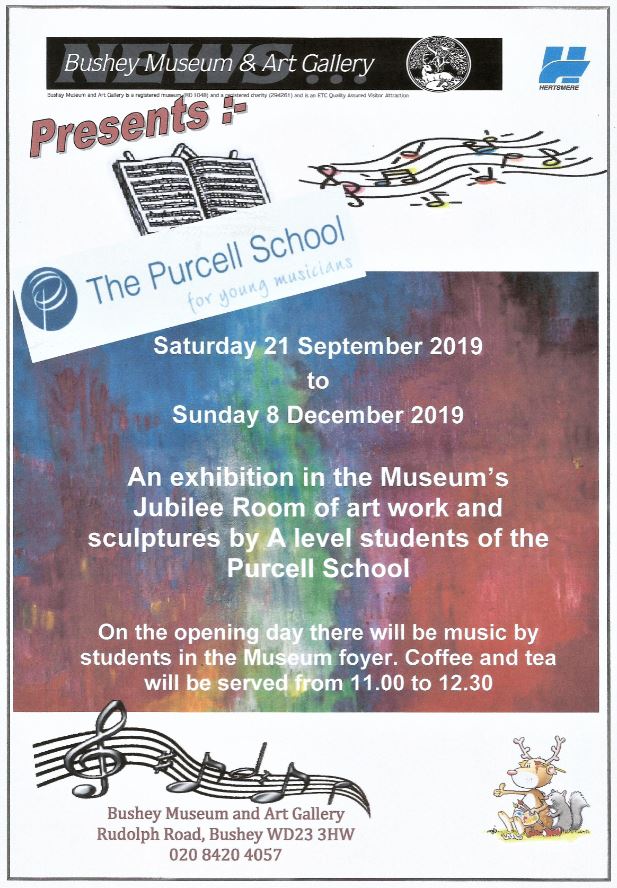 Jubilee Room
Until Sunday 8 December
An exhibition of art work and sculptures by A-level students of the Purcell School. More.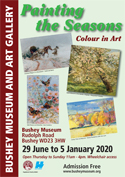 Council Chamber
Until 5 January 2020
The exhibition examines the use of colour in art through paintings of the four seasons selected from the Museum's collection.
Now the talk is of climate change but in the UK at least we can still discern the changes in the seasons. Artists have always endeavoured to capture the weather's fleeting moments and have used colour to evoke the seasonal differences, a principle which is clearly demonstrated by this selection from the Museum's collection. More.
Future Exhibitions
Recent Arrivals – Additions to the Bushey Museum's Collection
Council Chamber
From 18th January 2020
This exhibition will include new items donated to - or purchased by - the Museum. On show will be local history and pottery items, photographs, costumes, as well artworks to demonstrate the great diversity of the collection, the bulk of which is usually hidden from view. More.
20/20 Vision – 200 Years of history in Bushey
Anne Blessley Gallery
From 1st February 2020
To mark the beginning of a new decade, this exhibition plays on the phrase '20/20 vision', in as much as the focus will be on items in the Museum's collection from 1820, 1920 and 2020. Exhibits will include old and new artworks, costume as well as oral history. More.
Ground floor galleries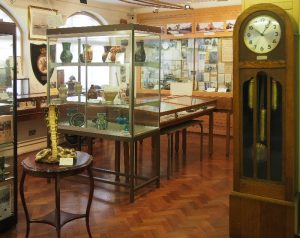 The gallery gives a social history of Bushey with maps, extracts of medieval documents, and some ancient artefacts. It includes local industries, schools, police and fire brigade history, the World Wars, transport, celebrities, Bushey Pottery, and more.   More.
Hubert von Herkomer Gallery
The life, work and castle of Sir Hubert von Herkomer RA, also his School of Art, and including some of his most notable paintings. More.
Lucy Kemp-Welch Gallery
A selection of large canvases featuring horses painted by Lucy Kemp-Welch (1869-1958). More.
Friends Meetings, Events & more
Saturday 16 & Sunday 17 November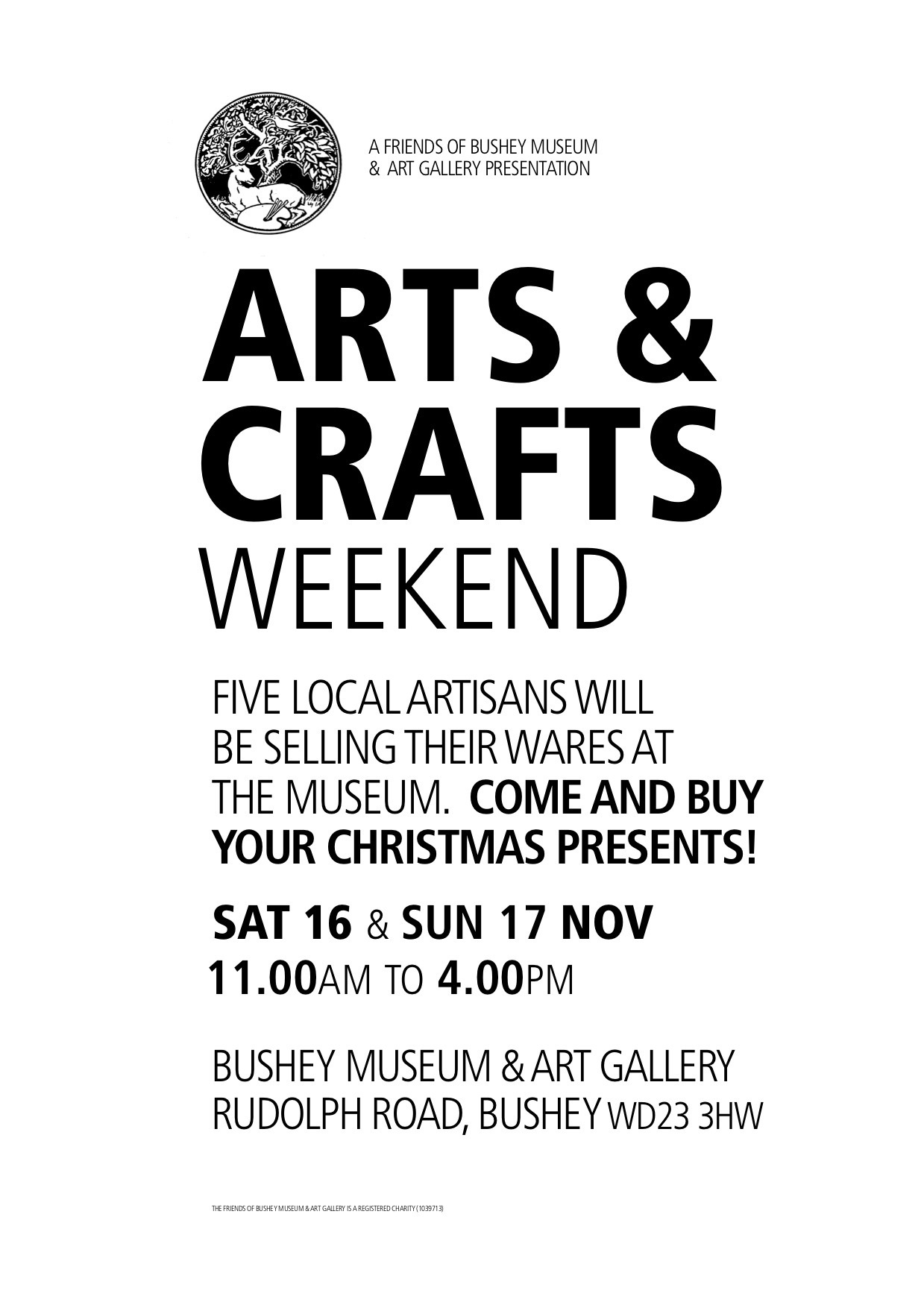 Arts & Crafts Weekend
From 11am to 4pm. Five local artisans will be selling their wares at the Museum. Come and buy your Christmas presents. At Bushey Museum and Art Gallery, Rudolph Road. More
Tuesday 19 November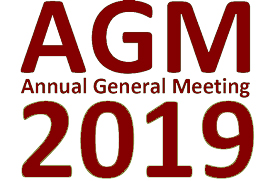 Meeting: Annual General Meeting at 7.30pm
After the formal business of the AGM there will be a slide show of photographs showing Bushey and Friends' events in the past year. Please note earlier starting time. More