About Us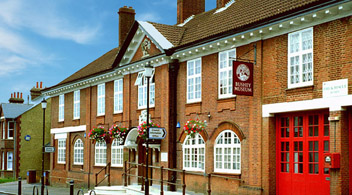 Address
Bushey Museum & Art Gallery
Rudolph Road, Bushey, Hertfordshire, WD23 3HW
Open
Thursdays to Sundays  11am to 4pm
Admission free
Phone
Museum 020 8950 3233      Thu-Sun  11am - 4pm
Office 020 8420 4057        Wed-Fri  9.30am - 5pm
Who are we?
The Bushey Museum & Art Gallery in Bushey, Hertfordshire shows local Bushey history from the earliest of times with displays of archaeology, artefacts, documents and historical maps, and which cover Bushey's social and business heritage.
The Museum has a unique artistic history which is of national significance: it majors on Sir Hubert von Herkomer RA with works of art, artefacts and ephemera relating to him and his famous School of Art in Bushey. There is also a major collection of paintings by Herkomer's student Lucy Kemp-Welch, as well as works by other artists drawn to Bushey by its artistic reputation.
Art UK say on their website: "...the art collection is the largest in Hertfordshire and is mainly from the nineteenth and twentieth centuries, with special interest in the Monro Circle of artists, Sir Hubert von Herkomer, Lucy Kemp-Welch and the pupils of their Art Schools and other Bushey art schools."
Located in an Edwardian former Council building close to Bushey High Street, it features galleries with displays of local history; Herkomer and Lucy Kemp-Welch paintings and memorabilia, as well as other Galleries with changing displays, see What's-On.
Click on Museum Shop to see the wide range of local history books, greetings cards featuring local artists' pictures - and much more - which can be bought in the Shop at the Museum, or via this website. And thre is a link (see below) to the Art UK website where you can buy prints of over 120 paintings from our Collection. Well worth a look!
There is a Meeting Room which is available for hire to local societies or individuals for meetings, talks, etc.
Parking and Accessibility
There is limited on-site free parking and additional free public parking in Kemp Place which is off the High Street opposite Rudolf Road. For more information about Accessibility click here.
The Visit Us page tells you how to get to the Museum.
The About Us page gives you more about the history of the Museum and what we have to offer.
The What's On page includes details of all of our current Exhibitions.
Arts Council England
Bushey Museum and Art Gallery has Full Accreditation status with the Arts Council England (RD 1048). Visit their site here.
Art UK
Bushey Museum and Art Gallery is an Art UK Founder Partner. Visit their website here to see over 1000 of the paintings in our collection! And also visit their Art UK Shop here where you can buy prints of over 120 of the pictures in our collection!
Charity Commission
Bushey Museum Trust is a registered charity with the Charity Commission in England and Wales No. 294261.
© 2019, Bushey Museum Trust, a company limited by guarantee (England 01937575).
Exhibitions & more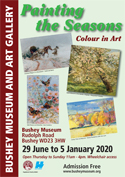 Council Chamber, from 29 June
The exhibition examines the use of colour in art through paintings of the four seasons selected from the Museum's collection.
Colour in art has been subject to lively debate since time immemorial. And now it is the turn of Bushey Museum & Art Gallery, displaying the work of local talented artists from Herkomer and Lucy Kemp Welch through to the present day. The paintings show the four changing seasons depicted by changes in colour through their annual cycle, in landscapes, townscapes or individual features within them.  More.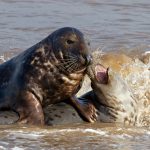 All of the entries for this year's Photographic Competition - both prints and digital entries - are now on display at the Photographic Exhibition in the Jubilee Room, from 29 June to 20 September. More.
Art Gallery, until 28 July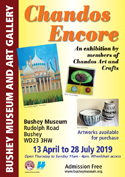 A selling exhibition where Chandos Arts and Crafts present a new collection of their members' work. As well as painters who use a variety of media and work in different styles, this group of friends has craftsmen / women who work with glass, wood, textiles, ceramics and jewellery to create a varied and interesting display. More.
Artists commemorated in Bushey street names
Art Gallery, from 3 August to 26 January 2020

Many of Bushey's thoroughfares have the name of an artist with local connections, confirming the influence of the art community that thrived here in Bushey.
Ground floor galleries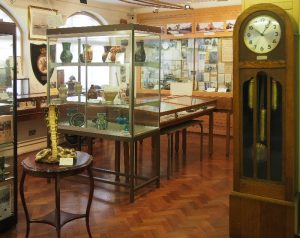 The gallery gives a social history of Bushey with maps, extracts of medieval documents, and some ancient artefacts. It includes local industries, schools, police and fire brigade history, the World Wars, transport, celebrities, Bushey Pottery, and more.   More.
Hubert von Herkomer Gallery
The life, work and castle of Sir Hubert von Herkomer RA, also his School of Art, and including some of his most notable paintings. More.
Lucy Kemp-Welch Gallery
A selection of large canvases featuring horses painted by Lucy Kemp-Welch (1869-1958). More.
Friends Meetings, Events & more
Saturday 20 July
Outing: Visit to Turner Contemporary Gallery, Margate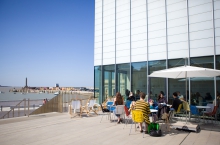 Whole day outing by coach, visiting the Turner Contemporary Gallery in Margate. After lunch the group will be free to enjoy the seaside or explore other museums. For more details click here.
Wednesday 31 July
Village Trail - St James' Churchyard, Part 1
Starting at 6.30pm, a repeat of the guided trail giving the history and stories of some of those who are buried at St James' Church. More
Sunday 18 August
Garden Party at Reveley Lodge
Join us for a traditional summer garden party with stalls, music, tombola, activities in the garden and of course tea and cakes, Pimms and Prosecco. 1.30pm to 4.30pm. Entry £5 (children free). More
Tuesday 17 September
Meeting: Hatfield House
Dermot Burke, a guide at Hatfield House, gives a in-depth view of Hatfield House and its rich history. More
Tuesday 15 October
Meeting: The History of Heath and Heather
Frances Watkins, Medical Herbalist, tells us the story of Heath & Heather, purveyors of herbal supplies in St. Albans since 1920, and their connection with the Ryder Cup. More
Saturday 19 October
Outing: Visit to Kensington: Leighton House Museum and the Design Museum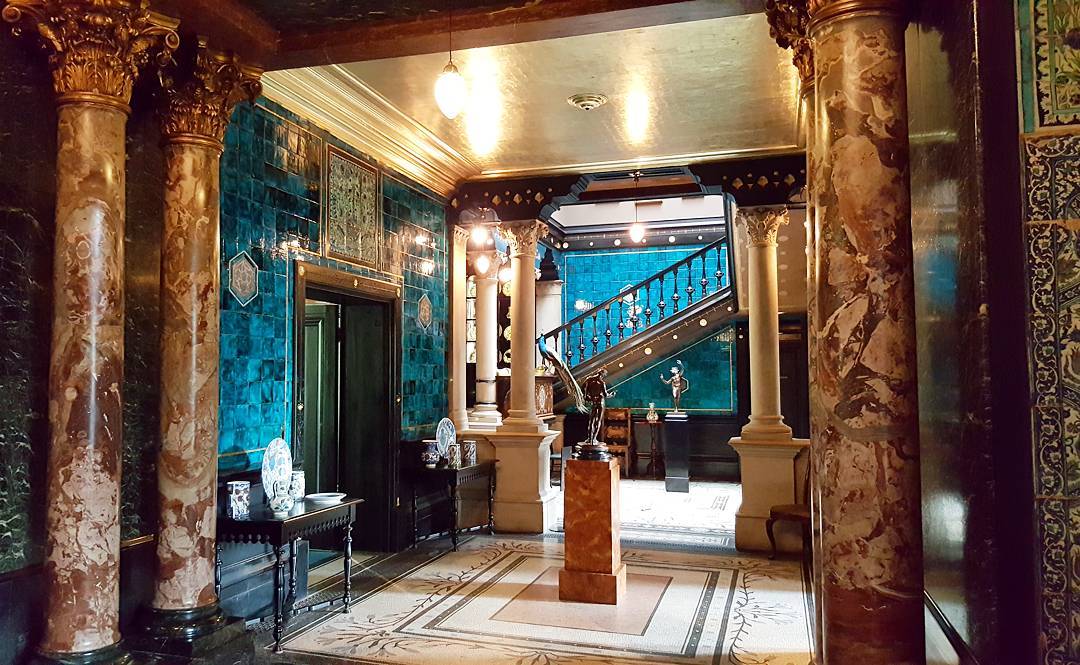 Whole day outing by coach visiting Leighton House, the home of the Victorian painter Frederic, Lord Leighton including a guided tour. We will also visit the Design Museum, or you can choose to visit other museums in Kensington. For more details click here.
Saturday 26 October
Bring & Buy Sale
From 10.30am to 1.00pm. Bring something – Buy something, and raise money for our Musuem! Good quality items – unwanted gifts, toys, plants, cakes and produce, books, white elephant goods etc. Held in the Meeting Room behind Bushey Museum. More
Saturday 16 & Sunday 17 November
Arts & Crafts Weekend
From 11am to 4pm. Five local artisans will be selling their wares at the Museum. Come and buy your Christmas presents. At Bushey Museum and Art Gallery, Rudolph Road. More
Tuesday 19 November
Meeting: Annual General Meeting at 7.30pm
After the formal business of the AGM there will be a slide show of photographs showing Bushey and Friends' events in the past year. Please note earlier starting time. More