About Us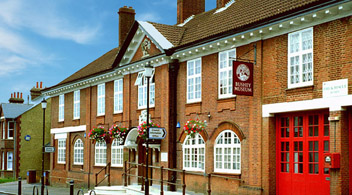 Address
Bushey Museum & Art Gallery
Rudolph Road, Bushey, Hertfordshire, WD23 3HW

Opening hours:
Thursdays     11.00 am to 4.00 pm
Fridays            11.00 am to 4.00 pm
Saturdays      11.00 am to 4.00 pm
Sundays         11.00 am to 4.00 pm
Note: we will be closed:
Saturday 6 May (Coronation Day)
Sunday 4 June (Garden Party at Reveley Lodge - More )

Phone
Museum - 020 8950 3233
Opening times: Thu-Sun 11am - 4pm
Office - 020 8420 4057
Opening times: Wed-Fri 10am - 4pm
Who are we?
The Bushey Museum & Art Gallery in Bushey, Hertfordshire has a local history collection, plus a major art collection spanning 200 years, with paintings, prints and drawings, sculpture, Bushey Heath lustre pottery and historic church silver as well as costume and embroidery.
The Museum has a unique artistic history - which is of national significance - and it majors on Sir Hubert von Herkomer RA with works of art, artefacts and ephemera relating to him and his famous Art School in Bushey. There is also a major collection of paintings by Herkomer's student Lucy Kemp-Welch, as well as works by other artists drawn to Bushey by its artistic reputation.
Art UK say on their website: "...the art collection is the largest in Hertfordshire and is mainly from the nineteenth and twentieth centuries, with special interest in the Monro Circle of artists, Sir Hubert von Herkomer, Lucy Kemp-Welch and the pupils of their Art Schools and other Bushey art schools."
Located in an Edwardian former Council building close to Bushey High Street, it features galleries with displays of local history; Herkomer and Lucy Kemp-Welch paintings and memorabilia, as well as other Galleries with changing displays, see What's-On.
Click on Museum Shop to see the wide range of local history books, greetings cards featuring local artists' pictures - and much more - which can be bought in the Shop at the Museum, or via this website. And there is also a link to the Art UK website (see below as well) where you can buy prints of over 120 paintings from our Collection. Well worth a look!
There is a Meeting Room which is available for hire to local societies or individuals for meetings, talks, etc.
Parking and Accessibility
There is limited on-site free parking and additional parking in Kemp Place (chargeable!) which is off the High Street opposite Rudolph Road. For more information about Accessibility click here.
The Visit Us page tells you how to get to the Museum.
The About Us page gives you more about the history of the Museum and what we have to offer.
The What's On page includes details of all of our current Exhibitions.
Arts Council England
Bushey Museum and Art Gallery has Full Accreditation status with the Arts Council England (RD 1048). Visit their site here.
Art UK
Bushey Museum and Art Gallery is an Art UK Founder Partner. Visit their website here to see over 1000 of the paintings in our collection! And also visit their Art UK Shop herewhere you can buy prints of over 120 of the pictures in our collection!
Charity Commission
Bushey Museum Trust is a registered charity with the Charity Commission in England and Wales No. 294261.
© 2022, Bushey Museum Trust, a company limited by guarantee (England 01937575).
Current Exhibitions
Kate Cowderoy and the Bushey Art Colony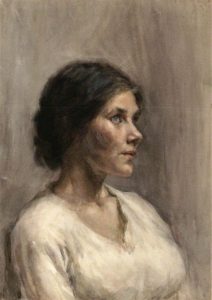 Council Chamber
Until 18 June 2023
Kate Cowderoy's active artistic life started when she joined the Herkomer Art School in 1899. She and her family settled in Bushey and became part of the artistic community that developed as a result of the reputation of the Herkomer School and the attraction of studio accommodation and the availability of good art teachers. More.
Colonising Cornwall: Bushey Artists in the West Country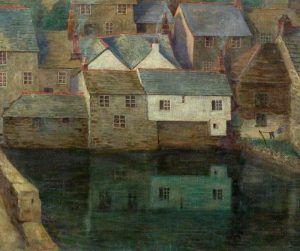 Anne Blessley Gallery
Until 16 April 2023 
Once Bushey artists had completed their studies, some of them went to art colonies in Cornwall to experience the wonderful quality of Cornish light, and more. More.
William Hoather (1872 -1943) — Photographer 
Jubilee Room
Hoather  moved to Bushey Heath in 1903 as an established photographer. His shop 'The Photo Nest' in the High Road flourished until 1926. A large collection of his glass plates and platinotype prints were donated to the Museum by his son Mr Max Hoather, and form the basis for this exhibition. More.
Future Exhibitions
God save the King!
Anne Blessley Gallery
22nd April – 4th June 2023
We are hoping to stage an exhibition of children's art work to celebrate the coronation of King Charles III.
A History of Bushey in Embroidery
Anne Blessley Gallery
10th June 2023 - 
The story of Bushey from prehistoric times to the present day as told through the art of embroidery.
Your Favourite Painting
Council Chamber
1st July – January 2024
In October 2023 the Museum will have been open for 30 years! To acknowledge this, we will display your favourite paintings! Do let us know which is your favourite! More
Ground floor galleries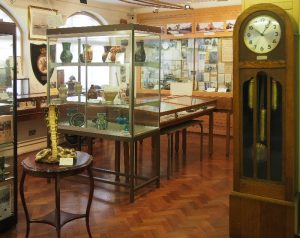 The gallery gives a social history of Bushey with maps, extracts of medieval documents, and some ancient artefacts. It includes local industries, schools, police and fire brigade history, the World Wars, transport, celebrities, and more! More.
This gallery also includes a collection of Bushey Heath Pottery, for more information, click here.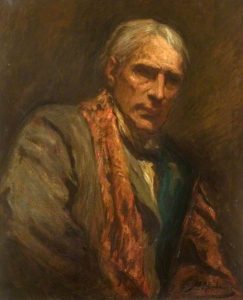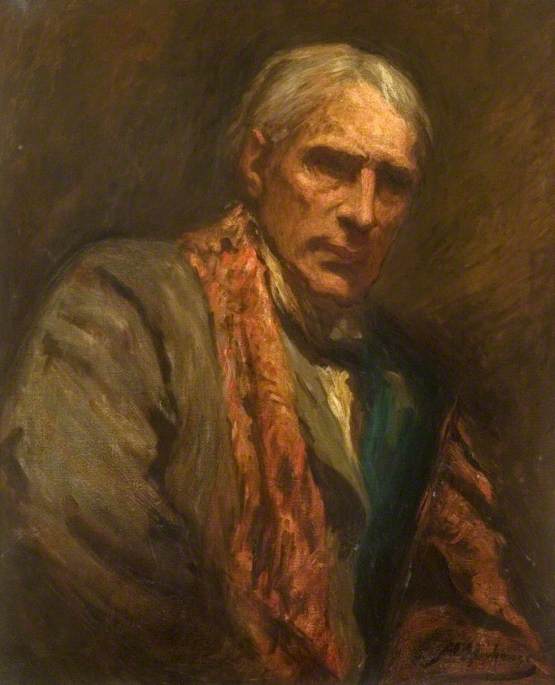 Hubert von Herkomer Gallery
The life, work and castle of Sir Hubert von Herkomer RA, also his School of Art, and including some of his most notable paintings. More.
Lucy Kemp-Welch Gallery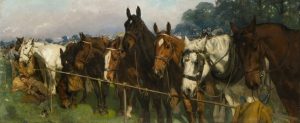 A selection of large canvases featuring horses painted by Lucy Kemp-Welch (1869-1958).More.
A Herkomer painting not seen in public for 100 years is now on display!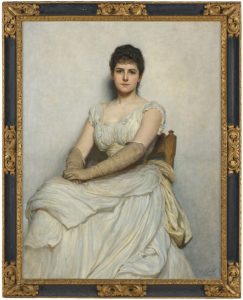 The Museum is delighted that it has acquired this unique Herkomer painting! Almost all of Herkomer's portaits were of men, but in 1885 he produced this portrait of Miss Katherine Grant - the painting known as 'The Lady in White'. Come and see it in the Herkomer Gallery. For more about this impressive painting, click here!
Friends - Events, Meetings & Outings
Events
Bushey Museum and Art Gallery Open Day
Saturday 15 April 2023, from 11.00am to 3.00pm
A special Open Day to showcase what treasures the Museum has to offer, with guided tours by our volunteers. More
Meetings
Friends of Bushey Museum Annual General Meeting
Tuesday 28 March 2023 at 7.00 pm
at Bushey Centre (Bushey Country Club), High St, Bushey, WD23 1TT
The Friends' Annual Accounts are available to view in the Museum Shop.
Outings and Holiday 
Visit to Reading Museum and the Museum of English Rural Life
Saturday 18 March 2023
A visit Reading Museum, specially to see their copy of the Bayeaux Tapestry. Then a visit to the Museum of English Rural Life. More
Bournemouth and Isle of Wight
From Sunday 18 June 2023
A 5 days/4 nights holiday.  More
Visit to Stonehenge and Salisbury
Saturday 20 May 2023
A visit to Stonehenge, then on to visit Salisbury Cathedral which has Magna Carta on display. More
The Defibrillator is now relocated outside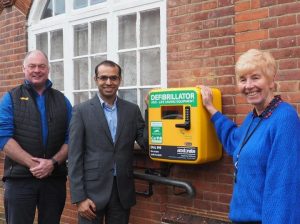 Bushey Museum's defibrillator has been located to a new site by the main entrance, making it accessible to the Bushey community 24 hours a day. The move was paid for by a Ward Improvement Initiative Scheme (WIIS) grant organised by Councillor Pervez Choudhury. The photo shows Cllr Perez Choudhury between the Museum's Audrey Adams and Operations Manager David Berry with the re-sited defibrillator.
The defibrillator was bought in memory of Gareth Wood, the Museum's former Operations Manager, and paid for by Museum supporters, local residents and Gareth's friends. It was originally sited inside the Museum, so was only available on days the Museum was open. Cllr Choudhury, a long-term supporter of the Museum, agreed to help and arranged for seven of his colleagues – Councillors Carter, Morris, Mortimer, Quilty, Rutledge, Silver and Swerling – to join him in contributing some of his WIIS allocation to the project.
The defibrillator is housed in an eye-catching yellow cabinet, purpose-built to provide protection and also maintain the defibrillator at the optimum temperature. Anyone needing to use the defibrillator should dial 999 and speak to the Ambulance Service, who will supply a key pad number to open the cabinet.
Bushey Museum Jigsaws!
Fancy doing an online jigsaw? Just click on the picture... enjoy! And click here  to see more jigsaws!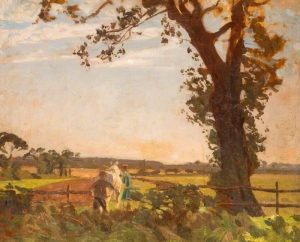 Artist of the Month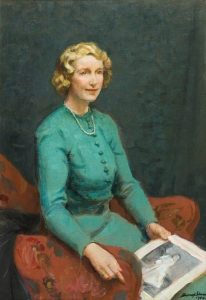 He was a painter in oils, watercolours, tempera and pastel of portraits, figure subjects and landscapes. He was also an important lithographer, etcher and charcoal draughtsman, and was distinguished as a writer on techniques of drawing. He studied at the Herkomer Art School from 1887. To see more click here.