About Us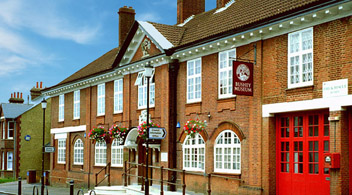 Address
Bushey Museum & Art Gallery
Rudolph Road, Bushey, Hertfordshire, WD23 3HW
Open
Thursdays to Sundays  11am to 4pm
Admission free

Phone
Museum 020 8950 3233      Thu-Sun  11am - 4pm
Office 020 8420 4057        Wed-Fri  9.30am - 4pm
Who are we?
The Bushey Museum & Art Gallery in Bushey, Hertfordshire shows local Bushey history from the earliest of times with displays of archaeology, artefacts, documents and historical maps, and which cover Bushey's social and business heritage.
The Museum has a unique artistic history which is of national significance: it majors on Sir Hubert von Herkomer RA with works of art, artefacts and ephemera relating to him and his famous Art School in Bushey. There is also a major collection of paintings by Herkomer's student Lucy Kemp-Welch, as well as works by other artists drawn to Bushey by its artistic reputation.
Art UK say on their website: "...the art collection is the largest in Hertfordshire and is mainly from the nineteenth and twentieth centuries, with special interest in the Monro Circle of artists, Sir Hubert von Herkomer, Lucy Kemp-Welch and the pupils of their Art Schools and other Bushey art schools."
Located in an Edwardian former Council building close to Bushey High Street, it features galleries with displays of local history; Herkomer and Lucy Kemp-Welch paintings and memorabilia, as well as other Galleries with changing displays, see What's-On.
Click on Museum Shop to see the wide range of local history books, greetings cards featuring local artists' pictures - and much more - which can be bought in the Shop at the Museum, or via this website. And there is also a link to the Art UK website (see below as well) where you can buy prints of over 120 paintings from our Collection. Well worth a look!
There is a Meeting Room which is available for hire to local societies or individuals for meetings, talks, etc.
Parking and Accessibility
There is limited on-site free parking and additional free public parking in Kemp Place which is off the High Street opposite Rudolf Road. For more information about Accessibility click here.
The Visit Us page tells you how to get to the Museum.
The About Us page gives you more about the history of the Museum and what we have to offer.
The What's On page includes details of all of our current Exhibitions.
Arts Council England
Bushey Museum and Art Gallery has Full Accreditation status with the Arts Council England (RD 1048). Visit their site here.
Art UK
Bushey Museum and Art Gallery is an Art UK Founder Partner. Visit their website here to see over 1000 of the paintings in our collection! And also visit their Art UK Shop here where you can buy prints of over 120 of the pictures in our collection!
Charity Commission
Bushey Museum Trust is a registered charity with the Charity Commission in England and Wales No. 294261.
© 2019, Bushey Museum Trust, a company limited by guarantee (England 01937575).
Exhibitions & more
20/20 Vision – 200 Years of history in Bushey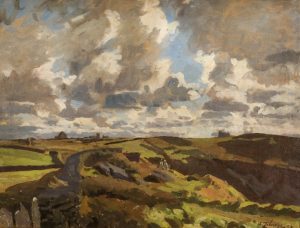 Anne Blessley Gallery
From 1st February 2020
To mark the beginning of a new decade, this exhibition plays on the phrase '20/20 vision', in as much as the focus will be on items in the Museum's collection from 1820, 1920 and 2020. Exhibits will include old and new artworks, costume as well as oral history. More.
Recent Arrivals – Additions to the Bushey Museum's Collection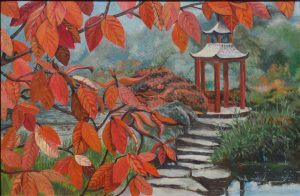 Council Chamber
Until 21st June 2020
This exhibition includes new items donated to, or purchased by, the Museum. On show are local history and pottery items, photographs, costumes, as well artworks to demonstrate the great diversity of the collection, the bulk of which is usually hidden from view. More.
Before the Railway came to Bushey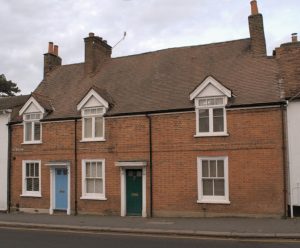 Jubilee Room
Until 22nd March 2020
Over 50 surviving buildings in Bushey built before 1840 are listed as Grade 2, and there are more on the Local List. You can still get an idea of what the village was like before the age of the railway. This exhibition selects and describes the most interesting of these buildings. More.
Future Exhibitions
On the Move: getting about in Bushey
Anne Blessley Gallery
From 24th May 2020
This exhibition features the various ways in which we transported ourselves and our goods through the ages. More.
Ground floor galleries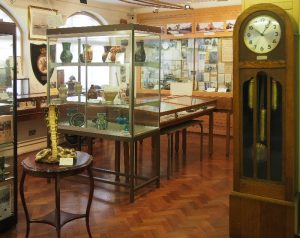 The gallery gives a social history of Bushey with maps, extracts of medieval documents, and some ancient artefacts. It includes local industries, schools, police and fire brigade history, the World Wars, transport, celebrities, Bushey Pottery, and more.   More.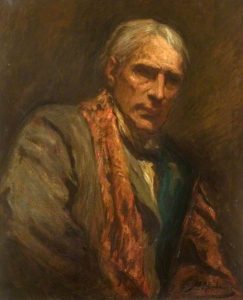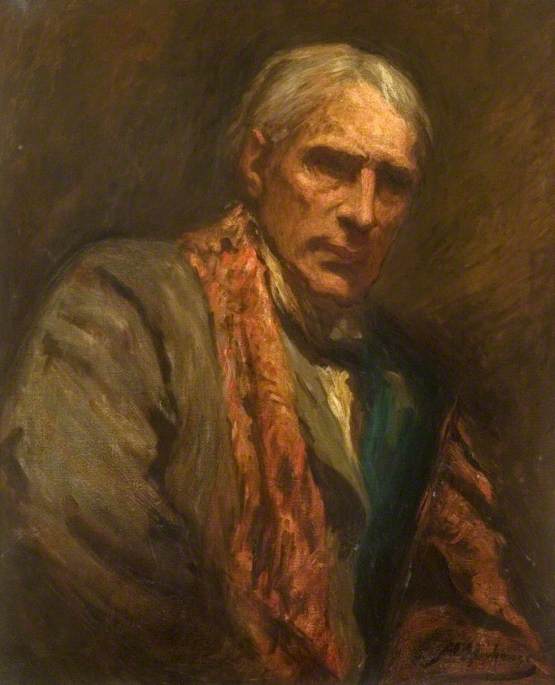 Hubert von Herkomer Gallery
The life, work and castle of Sir Hubert von Herkomer RA, also his School of Art, and including some of his most notable paintings. More.
Lucy Kemp-Welch Gallery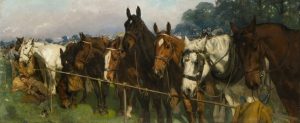 A selection of large canvases featuring horses painted by Lucy Kemp-Welch (1869-1958). More.
Friends Outings, Meetings & Events
Outings
Hughenden Manor and Henle

y

Saturday 21 March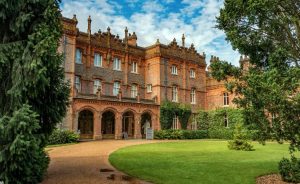 A visit to Hughenden Manor, home of the Victorian Prime Minister Benjamin Disraeli, and followed by a visit to the River and Rowing Museum in Henley, and which also houses a collection of the prolific English artist John Piper. Cost: £48.00 per person (National Trust members £37.00). For more details, click here. For a Booking Form, click here.
Hatfield House and Hatfield Museum
Saturday 9 May 
A guided tour round Hatfield House, and where there is so much history within the walls: a home to Queen Elizabeth 1st where she spent much of her childhood. Followed by a visit to Hatfield where the Museum has recently beenimproved. Cost: £42.00 per person (no concessions). For more details, including coach times, click here.
Southill House, Bedfordshire – Home of the Whitbread family
Friday 12 June
A guided tour of Southill House, followed by a visit to Bedford with free time to visit the Museum, have lunch etc. Cost yet to be confirmed. For more details, including coach times, click here.
Meetings
At St. James's Church House, High Street, Bushey, WD23 1BD.
Birds and Music
Tuesday 17 March at 8.00 pm
A talk from Paul Barritt, who is a classical violinist; a Permanent Guest Leader of the Halle Orchestra; and also a bird watcher! He explores the use of birds, their image, calls and sounds in classical music in a talk complete with musical examples both electronic and live.
Events
Bushey Village Trail: St. James' Churchyard – Part 2
Saturday 29 February at 10.30 am, starting from Bushey Museum.
The history and stories of those who are buried in St. James' Church and Churchyard. Tickets available on the day. £8 Donation invited.
Bring and Buy Sale
Saturday 28 March from 10.30 am to 1.00 pm, in the Meeting Room behind the Museum
'Bring something – Buy something' – and raise money for our Museum! Good quality items, such as unwanted gifts, toys, plants, cakes & produce, books, white elephants, etc. (sorry – no electrical items or candles can be accepted). Items will be accepted in the Meeting Room on Friday 27 March from 2pm to 4pm, and on Saturday 28 March 9am to 10am.
Quiz Night with Fish & Chip Supper
Tuesday 21 April at 7.00pm for a 7.30pm start
at St. James' Church House, High Street, Bushey, WD23 1BD
Join us for a fun quiz night with a Fish & Chip supper from Godfrey's, Kemp Place. Tickets £15 each to include supper and a glass of wine or soft drink. Cash bar available.
Concert by students of the Purcell School
Wednesday 6 May at 7.00pm
at The Purcell School, Aldenham Road, Bushey WD23 2TS
A concert performed by young soloists and ensembles.