The Bushey Museum has acquired a unique Herkomer portrait not seen in public for over a century! It is now on display in the Herkomer Gallery - come along and see it!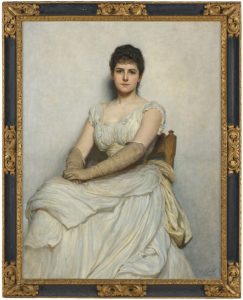 'Portrait of Miss Katherine Grant' by Sir Hubert von Herkomer RA, 1885
Oil on canvas, 134.6 x 104 cm
She's young, she's beautiful and she looks directly at the viewer with a relaxed but confident gaze. Here is Miss Katherine Grant, age 19, a Bushey resident, as painted in 1884 by Herkomer in a series of sessions after breakfast on weekdays before he went to teach at his Bushey art school. The daughter of a friend, she has no other particular claim to fame. The portrait, however, first exhibited in 1885 at the Royal Academy, was greeted with instant acclaim by critics and public alike. Until this time, Herkomer had mainly received commissions for male portraits and 'The Lady in White', as the portrait is often called, is said to be his answer to those who said he could not paint women. He took it to the USA, where it was received rapturously in Boston, and exhibited it widely in Europe, winning a gold medal in Vienna. He refused all offers to buy, even from the Kaiser and thereafter commissions for females increased rapidly.
A white dress made of swathes of soft material must present a challenge for any artist. To select a white background as well shows huge confidence. As a result, however, Kate's delicate skin tones are not overwhelmed and only her dark hair and shadow behind her head form a contrast against the matt white background. Both James Abbott McNeil Whistler and John Singer Sargent depicted ladies in white, which Herkomer is likely to have seen. The jury is out as to who best succeeded.
Herkomer finally sold the portrait to Miss Grant's brother-in-law in 1900 and since then it has remained in the family, before coming to auction in December last year.
John Gerry, Joint Art Curator
The painting came on the market in 2021 when a member of the Grant family put it up for auction. The painting was acquired as a result of a convincing submission by Bushey Museum's Art Curator John Gerry, and the support of the Arts Council England/V&A Purchase Grant Fund (and which is provided with funds by the Arts Council England Lottery funding) - and also The Friends of Bushey Museum & Art Gallery.