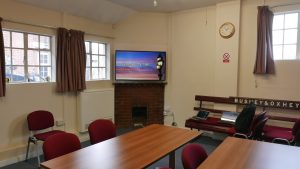 The Museum has a meeting room which is available for hire to local societies or individuals for meetings, talks, etc.  It has space to seat around 30 people without tables or around 20 people if tables are used.  A digital screen is available. There is disabled access and an accessible toilet.
Hire charge 2019:  £20 per session.  Sessions are usually 9:00am - 12:00pm or 1:00pm - 4:00pm.
Please contact the Museum office via the Contact Us page for further details or to book the room. If you wish to phone us, the Office phone number is 020 8420 4057, and the Office is open 9.30am - 4pm, Wednesday-Friday.