Sir Hubert von Herkomer, 

CVO RA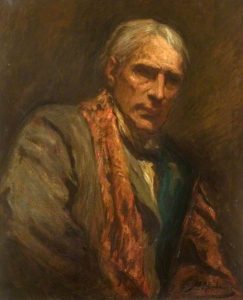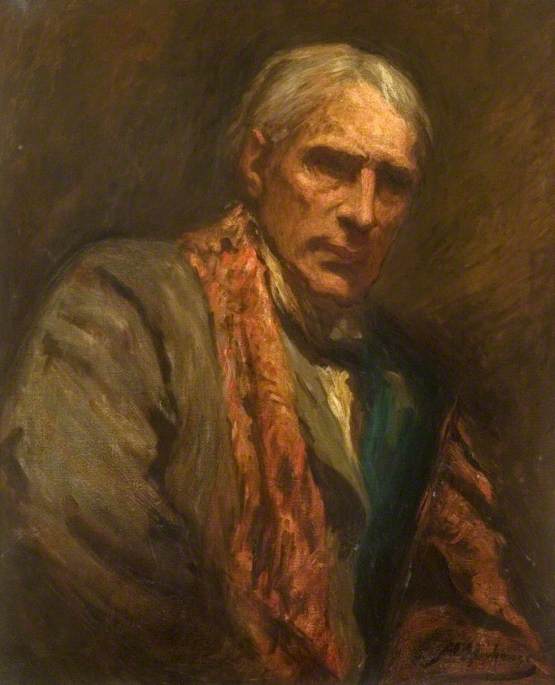 Herkomer Room

This exhibition illustrates his work, Art School, Lululaund house and includes some of his most notable paintings.
Permanent display
A biography of Hubert von Herkomer
Sir Hubert von Herkomer CVO RA (26 May 1849 – 31 March 1914) was a German-born British artist, and also a pioneering film-director and composer. Though a very successful portraitist, especially of men, he is mainly remembered for his earlier works that took a realistic approach to the conditions of life of the poor. Hard Times (1885; Manchester Art Gallery) showing the distraught family of a travelling day-labourer at the side of a road, is probably one of his best known works.
Early years
Herkomer was born at Waal, Bavaria on 26 May 1849. Lorenz Herkomer, his father and a wood-carver of great ability, left Bavaria in 1851 with his wife and child for the United States, settling in Cleveland, Ohio. They soon returned to Europe and settled in Southampton in 1857 where the family spent over 15 years before moving to a house called Dyreham in Bushey in 1874.
Whilst in Southampton, Herkomer went to the school of art there and began his formal art training. He also studied in Munich, and in 1866 he entered upon a more serious course of study at the South Kensington Schools and, in 1869, exhibited for the first time at the Royal Academy. In same year, he also began working as an illustrator for the newly founded newspaper The Graphic, a deliberate rival of the Illustrated London News. It was by his 1875 oil painting 'The Last Muster', after a wood-engraving from 1871, that he definitely established his position as an artist of high distinction at the Academy, and was elected an associate of the Academy in 1879 and an academician in 1890.
Art School
He founded the Herkomer Art School at Bushey in 1883 and directed it until 1904 when he retired. During those years, it had taught more than 500 students, many of whom, such as Algernon Talmage and William Nicholson, went on to achieve distinction. Much of the success of the school can be measured by its alumni who included Lucy Kemp-Welch, George Harcourt, Tom Mostyn, E. Borough Johnson and Roland Wheelwright. Lucy Kemp-Welch took over the running of the Art School from Herkomer and ran it until 1926, first as the Bushey School of Painting and then, after relocating it to her own home, as the Kemp-Welch School of Animal Painting. After 1928 the school was run by Kemp-Welch's former assistant Marguerite Frobisher as the Frobisher School of Art.
Whilst running the Art School he also exhibited a very large number of memorable portraits, figure subjects and landscapes, in oil and watercolour; he achieved marked success as a worker in enamel, as an etcher, mezzotint engraver and illustrative draughtsman, as well as exercising a wide influence upon art education. He was also a pioneering filmmaker, directing some seven historical costume dramas designed to be shown accompanied by his own music, but none of them seem to have survived.
Other accolades
He became an associate of the Royal Watercolour Society in 1893 and a full member in 1894, and in 1885 he was appointed Slade Professor of Fine Art at the University of Oxford, a position he held until 1894. In 1899, he was ennobled as "Ritter von Herkomer" by King Otto of Bavaria, who appointed him Knight of the Merit Order of the Bavarian Crown. The same year, he was awarded the Pour le Mérite for Arts by Kaiser Wilhelm II.
On her deathbed Queen Victoria was initially photographed in study and eventually painted by Herkomer as an alternative to the more traditional mask produced in wax which her son, the incumbent Edward VII, decried. The painting, depicting the Queen as lying half-length among lilies and other flowers, swathed in white tulle, her right hand holding a cross, is part of the Royal Collection held at Osborne House on the Isle of Wight, England, where it hangs in the Pavilion Principal Stairs Vestibule.
Four of his pictures, Found (1885), Sir Henry Tate (1897), Portrait of Lady Tate (1899) and The Council of the Royal Academy (1908), are in the national collection at Tate. In 1907, he received the honorary degree of DCL at Oxford, and a knighthood was conferred upon him by the king in addition to the commandership of the Royal Victorian Order with which he was already decorated.
Lululaund
Herkomer's massive house in Bushey, Lululaund, named after Lulu Griffith, the second of his three wives, served as his studio, school, theatre and movie studio, where he put on productions of his own plays and musical compositions. It was designed by the prominent American architect Henry Hobson Richardson, for whom Herkomer painted a portrait. It was designed in c.1886 and inhabited in 1894. It was demolished in 1939.
Herkomer died at Budleigh Salterton, Devon on 31 March 1914 and was buried in St James's church, Bushey.
[Text source (before edit): Wikipedia]
If you would like more information, please contact our Local Studies Centre.
---
The article below was posted on the Bushey Museum and Art Gallery section of the Art UK website on 5 March 2017.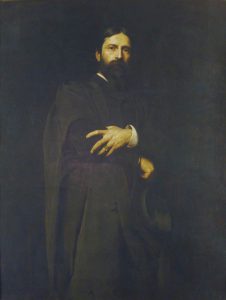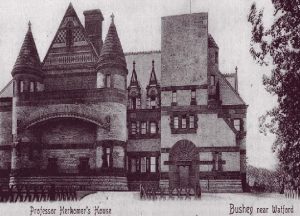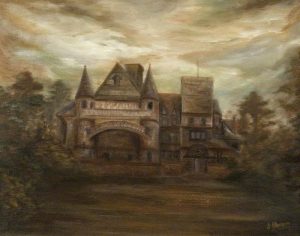 Bushey Museum and Art Gallery, Hertfordshire has a nationally-significant collection of art, artefacts and ephemera relating to the prominent portrait and genre painter, Sir Hubert von Herkomer. Adding to its extensive collection is this monumental portrait of Hubert, painted, interestingly, by his lesser-known and arguably underappreciated cousin Herman Herkomer. In America since 1915, all of us at Bushey were delighted to catch wind that the artwork was being shipped from the Fine Arts Museums of San Francisco for auction at Christie's in December 2016. After a gruelling bid at the auction house, we are now the proud owners and invite visitors to view the work in the Herkomer Room of Bushey Museum.
The town of Bushey was once home to Hubert's exotic and elaborate 'Bavarian Castle' – 'Lululaund'. The artistry and skill of the Herkomer family are reflected in the design; his father Lorenz, a wood carver, and his uncles John (father of Herman) and Anton, a woodcarver and a weaver respectively, assisted with the execution of Hubert's elaborate designs with carved interior decorations and draperies. Originally commissioned from a design by Henry Hobson Richardson, the mansion was constructed of grey Bavarian tufa and featured a German-gothic-style interior – reflecting the family's Bavarian origins. Although the estate was eventually demolished in 1939 visitors can still see the remaining front elevation and adjoining rose garden, which was once the site of Hubert's Herkomer School of Art.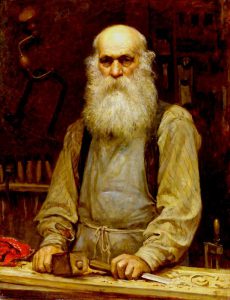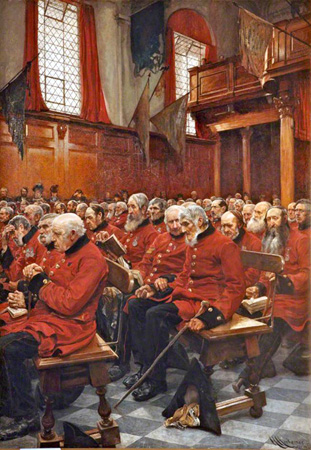 Herman seems to pay homage to Hubert's remarkable career in this rather proud portrait. His success at the Royal Academy with paintings such as The Last Muster(1875), his impressive portrait clientele including sitters such as Richard Wagner and John Ruskin, and his directorship of his own school of art in Bushey, Hertfordshire – led him to succeed John Ruskin as Slade Professor of Fine Art at the University of Oxford in 1885. It is in this role that he is here depicted, proudly donning his ceremonial gown and mortar board.
But one shouldn't forget Hubert's lesser-known cousin, Herman, who eventually earned his own recognition as a portrait painter. Exhibited at the Royal Academy in 1887 and again at the Paris Salon the following year, where it received an honourable mention,
This portrait of Hubert was one of his most acclaimed. Herman's artistic education was in part influenced by his older cousin, whose paintings he copied during a portrait painting tour together of the United States in 1882. Herman's eventual recognition led to a falling out between the pair in the 1890s.
An extensive collection of portraits by both Hubert and Herman Herkomer can be viewed on Art UK.