Here is a list of other websites you might be interested in. Just click on any of the headings to see their website.
Bushey Museum related 
Bushey Museum art at Artuk.org
The Art UK website includes photos of over 1,000 paintings owned by Bushey Museum. And prints of over 100 of these can be purchased from Art UK.
Reveley Lodge is closely associated with Bushey Museum and Art Gallery.  Reveley Lodge is a Grade II listed Victorian house on Elstree Road, Bushey. It was bequeathed by its last owner Mrs Eila Chewett to the Bushey Museum Trust. For the early part of its life Reveley Lodge served as a 'Gentleman's Cottage' – a small country house easily reached at the weekend from the owner's principal home in London.
A more recent site with details of the Friends activities and events.
and also...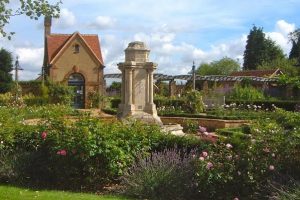 A beautiful award winning garden originally designed by Thomas Mawson for Hubert von Herkomer and now owned by Hertsmere Borough Council.
Herkomer Museum, Landsberg-am-Lech
This website is about Hubert von Herkomer who was from Landsberg-am-Lech in Germany. The Herkomer Museum was opened in 2015 following the efforts of Landsberg citizens who helped renovate and refurbish the Herkomer Museum and the connected Mutterturm. The website is 'in Deutsch' but most browsers can translate it for you. It is well worth a visit.
A website of the Bushey First World War Commemoration Project run in 2014 to remember the 370 Bushey and Oxhey servicemen who died during the Great War - and many others who supported them. Also have a look at the Herts at War website here.
Other Bushey links
The Bushey Festival, founded in 1983, is an annual Festival of arts, music, drama, entertainment, sports, tours and talks. It takes place in July and is organised and run entirely by volunteers. To date, the Festival has existed to celebrate Bushey and enhance community life for all who live and work in the area by supporting creative talent and strengthening community involvement. Our Festival is an inclusive event that aims to engage all sectors of the local community and we strive to make the Festival as accessible as possible.
In 1977, two years after it was founded, became independent with the support of Hertsmere Council. The BSO gave regular concerts at St Peter's Church, Bushey Heath, but when audiences began to grow in the 1990s, moved to Bushey Academy in the centre of Bushey Village.
Bushey & District Footpaths Association
Formed in 1991, BADFA aims to look after paths in an area centred on Bushey and beyond and to encourage their use by organising walks and rides.
St James Church in Bushey is open daily for all. The impressive building includes a well-preserved hammer-beam roof, one of the oldest in Hertfordshire, a rare painting of the Arms of Queen Anne and memorials to some of the Bushey artists - including Sir Hubert von Herkomer, see here.
Other local links
Creative Hertfordshire is a free online resource that allows anyone within the creative business and arts community in Hertfordshire to showcase work, share latest news, events and projects, and network with others.
The Elstree and Borehamwood Museum is a local history museum with a large collection of items and which offers displays, talks, workshops for schools and local community groups.
Hertfordshire Association of Museums
The Hertfordshire Association of Museums is an organisation that supports and promotes museums and heritage organisations in Hertfordshire. It brings together information on collections, activities and events in the region - and also includes a link to Bushey Museum and Art Gallery website.
Herts at War is a community led project to commemorate the diverse experiences of Hertfordshire during the First World War. The project aims to uncover the untold stories of the county's men and women, both on the fighting front and the home front, and commemorate these individuals a century on from the conflict.
Looking at the experiences of the people of Hertfordshire, recording and re-telling those stories, raises awareness of how the war had a far wider impact on everyday life for each and every citizen that lived through that time.
Oxhey Village Environment Group (OVEG)
is a local group whose main objectives are to:
Maintain, protect and enhance the character and environment of Oxhey Village and its surroundings
Foster the community spirit in the village
Protect and support the services to the area
Record the history of the area
The Arts Society Moor Park is a friendly and enthusiastic society, which meets to enjoy talks on a great variety of subjects within the spectrum of decorative and fine arts. The Society offers regular guided tours at Moor Park Mansion, an early 18th century, Grade 1 listed building near Rickmansworth, Herts, click here for more information.
The 'Visit England' accredited museum is housed in the former offices of Benskins Brewery. It tells the story of Watford past and present, and has displays of local history, industry and archaeology. These include Watford at War, Printing and Brewing. Other permanent displays include the Cassiobury Collection of Fine Art, which features portraits of the Essex family capturing the Earls, their wives and children. John Wootton's 'A View of Cassiobury Park', painted circa 1748, is also on show.