You can visit some current and previous exhibitions - but virtually! Below we've listed those exhibitions where we have a 'Virtual Tour' available. Just click on the 'Virtual Tour' button, and enjoy!
And you can fully control how you navigate through the Virtual Tours using your mouse to 'click and drag' left or right or up or down, or zoom in or out using the mouse wheel. Or using your finger(s) on touch screens, of course!
Current Exhibitions
Current exhibitions to be added.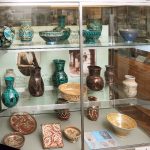 Local History Galleries
Permanent display
A comprehensive display of local Bushey pottery and industry artefacts including police, fire brigade and schools.
View Virtual Tour
We also have Virtual Tours of a number of previous exhibitions available, see below.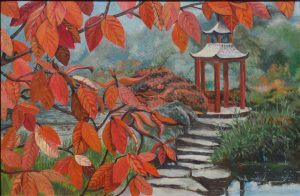 Council Chamber
This exhibition included items donated to, or purchased by, the Museum. On show were local history and pottery items, photographs, costumes, as well as artworks to demonstrate the great diversity of the collection, the bulk of which is usually hidden from view. Picture: Red Pagoda by Arnold Fletcher.
View Virtual Tour 1    View Virtual Tour 2    View Virtual Tour 3    View Virtual Tour 4
Painting the Seasons – The Art of Colour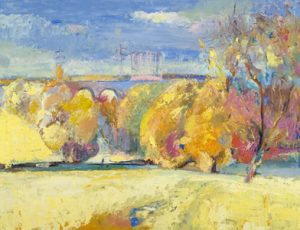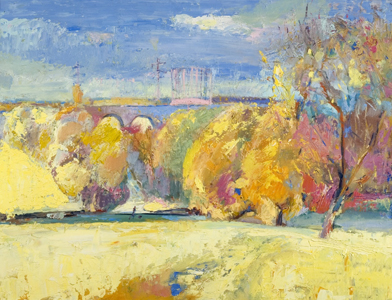 The exhibition explored the use of colour in art through paintings of the four seasons selected from the Museum's collection. June 2019 to January 2020, Council Chamber.
Virtual Tour 1    Virtual Tour 2    Virtual Tour 3    Virtual Tour 4
Chandos Encore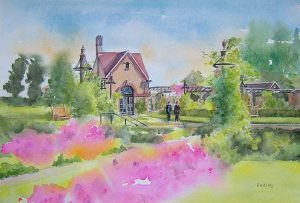 The exhibition showed a variety of paintings, hand-built ceramics, jewellery, wood turning, fused & leaded glass and textiles from Chandos Art and Crafts. April to July 2019, Art Gallery.
Virtual Tour
A Quiet Revolution: Bushey Women Artists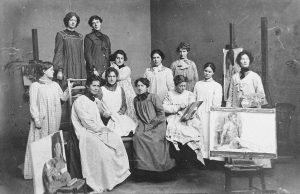 When Herkomer opened his School of Art in 1883 he accepted 15 female students in that first year – at a time when the place for Victorian women was in the home. Many students became very successful artists, some as graphic artists, producing greetings cards, postcards, working as illustrators for books and magazines. January to June 2019, Council Chamber.
Virtual Tour 1    Virtual Tour 2    Virtual Tour 3    Virtual Tour 4
Drawn from Life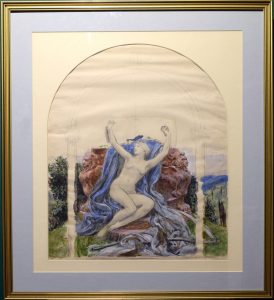 A significant feature of Herkomer' School of Art (1883 – 1904) was life classes for both men and women: life, or figure, drawing was fundamental to Herkomer's method of teaching art. Life drawing captures the human form in all its shapes, sizes and poses; it trains the eye to observe variations in shapes, muscles and bones in the human body with diverse lighting effects. December 2018 - April 2019, Art Gallery.
Virtual Tour
A Village Remembers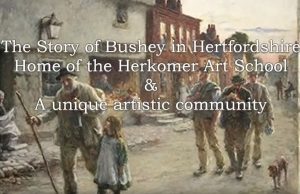 This exhibition was about the men and women of Bushey & Oxhey who served abroad and on the Home Front during The Great War. September to December 2018, Art Gallery.
Virtual Tour
Back from the War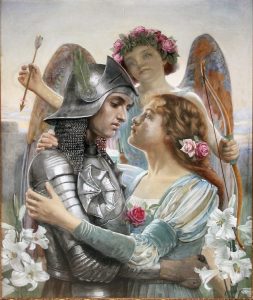 The exhibition encompassed First World War in general and how it affected the lives of Bushey artists through the years; some participated, some reported; art included recruiting posters, and women's war work back in Britain. July 2018 to January 2019, Council Chamber.