Bushey History
Ground floor galleries
Permanent display
View Virtual Tour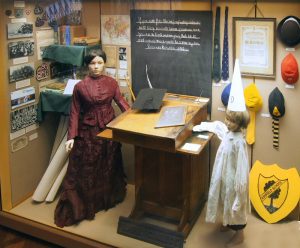 A social history of Bushey shown through medieval documents and a time-line to the present day. There are several display cases of artefacts and photographs from pre-historic times through Roman and later; past industries including the well-known Bushey Heath Pottery modelled on the style of William de Morgan; and historical facts on local Police, Fire and Health services plus much more.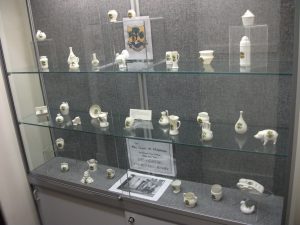 On our Local History level we have a comprehensive display of Crested China all with the Bushey Crest based on the design of Lucy Kemp-Welch. Popularly sold locally in the early years of the 20th century, the main manufacturers of such works were Goss and Arcadia. These are now considered to be very collectable - particularly some of the rarer designs. The items shown are mainly from our own collection, and additionally those from the collection of Museum Friend Christopher Jordan.
The displays are regularly reviewed and updated.
Click for Next Current Exhibition page, or return to the summary Current Exhibitions page.