Graham Boyd, born 1928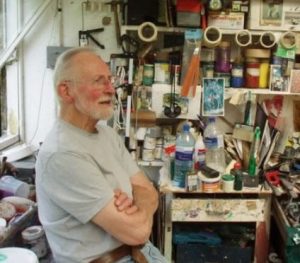 In the early 1950s Boyd lived in Southern Rhodesia (now Zimbabwe) which had a profound impact on his perception of space and its representation. Once back in the UK, he lived and worked in near-derelict Meadow Studios in Bushey, and which had been built by Hubert von Herkomer in the 1890s. 'The huge skylight leaked but gave the interior it's stunning luminosity, which along with space and off beaten track feel, made it an ideal working environment. He soon arrived at a form of abstraction which owed its origins to the repetitive mark-making of the Impressionists as well as the plus/minus glyphs and ciphers in Mondrian's Pier and Ocean series.'
In 1976 he was appointed as Head of Painting at the Hertfordshire College of Art and Design, St. Albans. As a Principal Lecturer he led the team responsible for developing a unique part-time mode of a B.A. Hons. Fine Art Degree Course specially designed to meet the needs of mature students. And in 2019 he was bestowed with a Fellowship at the University of Hertfordshire 'in recognition of his contribution to art and his services to the University'.
Graham's exhibitions at Bushey Museum include:
2004 -      'The Long Haul', paintings by Graham Boyd
2006/7 -  'Bushey Artists and Meadow Studios'
2010 -       'Visual Metaphors', early works by Graham Boyd
Graham continues to exhibit widely and frequently. His work is to be found in both public and private collections in the UK and abroad.
For the past four decades he has worked from his Chipperfield studio, attending artists workshops and symposiums in, New York, 1983, Barcelona 1987, and The Azores 1997, working with an international cross-section of painters, sculptors and other media artists, such as Anthony Caro and Larry Poons. Also the critics, Clement Greenberg, Michael Fried and Karen Wilkin.
---
The following text is from his booklet 'Compulsive Dreamer: Graham Boyd at 90'.
"I always need to take an idea as far as its potential will allow - and until I feel I can too readily predict the outcome. I don't think that creativity exists beyond that point. Why would I continue? It'd just be boring. So I bring in the changes!
These works, done since 2014, are another shift in direction. Beforehand, I'd been working quite freely, a la prima, using rollers and palette knives to apply a thick and malleable impasto gel to create a palpable surface. It was an expressive, sensual and frankly "Dionysian" way of working, all about touch, which I love and don't want to abandon. But I felt the need for a more considered or "Apollonian" element to offset against it. I don't want texture just for texture's sake. So now I'm increasingly using the brush rather than the palette knife, slowly building up washes of colour in thin, transparent layers.
I'm also using the grid as a structural counterpoint. In the early 70's, following a period of making constructions, I did a series of meticulous, systemic grid drawings (recently exhibited at Parndon Mill). But now my grids have become more painterly, more reliant on my nervous system rather than measured control, with colour playing an increasing role. A lot of this new work centres on the balance between the grid as a skeletal armature and the 'skin' set against or over it (either in thick gel, or thin washes or a combination). The painting's done when the two opposing elements cohere. It's challenging but I'm very happy to be fighting this battle.
It's not about routinely colouring in squares. It's about feeling. Verticals and horizontals embody stability, diagonals convey movement. I might start by drawing with charcoal, or begin a grid while applying white gesso primer, or with colour of whatever viscosity, soft - or sharp - edged, the layers interacting with each of the opposing colours. There are many variables as the grid and colour elements combine to set up a momentum.
To counterbalance the grid, I sometimes literally disrupt the process in a kind of act of exasperation maybe pouring on diluted mixture or even heavy impasto - a bit like a mudslide onto a railway track (l work with the canvas on the floor so I can move round it as it progresses.) The grid can be almost washed away and then its faint image reclaimed in another way. All this to challenge the predictable and to take chances. There is the potential problem of working over heavy gel textures once they've set. But such risks are part of the commitment to push forward into some place I haven't been before, even if I might have to abandon the painting. You have to take risks to break through what the late Peter Schmidt called 'The Good Taste Barrier'.
These recent paintings are taking longer, after that lengthy spell of 'a la prima' - say, 4 or 5 weeks or even 3 years off and on. Sometimes I spend the best part of a day in here, just looking at a painting, trying to figure out how to progress it. I can't get out of the chair! You have to out-stare the painting, to know all about what it's up to. Then however much you may treasure some areas, you have to make changes to reach a point of resolution, where you are unable to add another mark.
I want each picture to be like an energy-field of charged particles held in a state of what Mondrian called "Dynamic Equilibrium". The forces represented are the forces at work in our natures. We are volatile and complex creatures - made up of atoms and all manner of particles, all-pervading and universal. This is what I am trying to reflect.
I shall just go on with this until I feel I'm repeating myself and quoting myself. But more than ever, there are so many possibilities in what I do that I can't see myself running out of options. I've just turned 90 and can't imagine what life would be if I couldn't paint."
Graham was talking to broadcaster and painter Mark Halliley.
Portfolio (in Bushey Museum collection)
Copyright of all paintings - Graham Boyd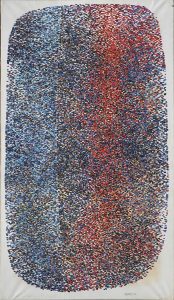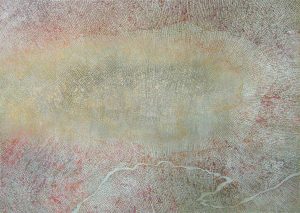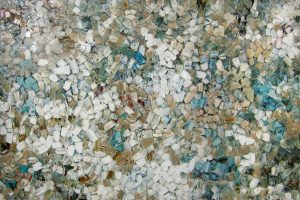 Other paintings - selected by Graham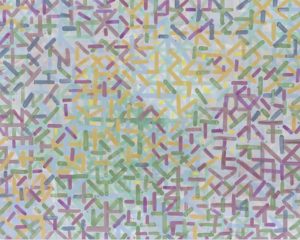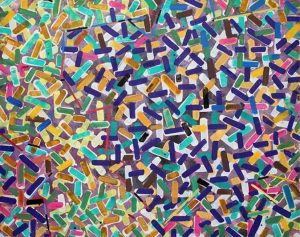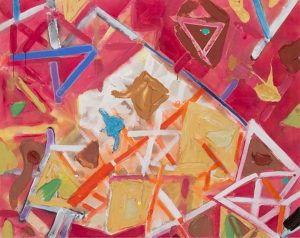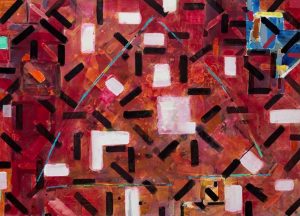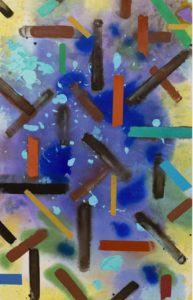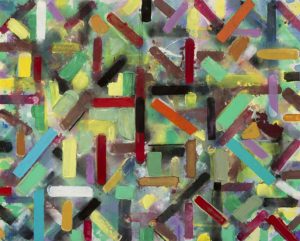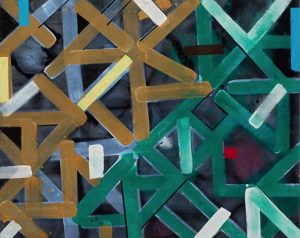 Other resources
Graham Boyd's website, at grahamboyd.co.uk 
See more of his work at the Art UK website.
Interview with Graham Boyd, published by Watford Observer, February 2010, see here. [Caution - lots of adverts and the Museum is not sponsoring them!]
Click to go to Artists Biographies
August 2020