Anthony Wildig, born 1952
Anthony was born in Watford and from an early age he developed an interest in buildings and drawing. Because of a great love of working with wood he took an apprenticeship at a London firm of antique furniture restorers.  He has worked on furniture in notable collections, including Blenheim Palace, Woburn Abbey and the J. Paul Getty Museum in California. He now has his own business in a former bakery premises in Park Road, Bushey.  The original shop displays antique furniture and his own paintings.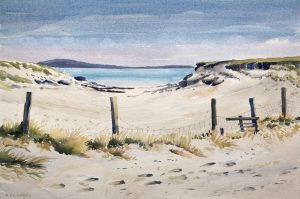 Painting and drawing has always been part of his life and watercolour is his passion: this medium has proved to be ideal to capture the architecture and a wide variety of landscapes found throughout Britain. Anthony's work has been exhibited widely in Hertfordshire and Bushey Museum has a collection of his paintings. Visits to Aberdeenshire led to work being shown in galleries in the N. E. of Scotland.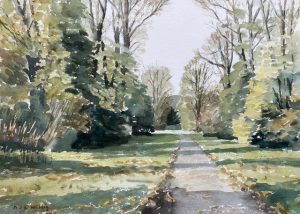 Artist's Statement
'I find pleasure in carrying on the very British tradition of watercolour painting. If asked, I have described myself as a 'landscape painter'.
In the past I have had the experience of painting in remote parts of the Yorkshire Dales and the white sandy beaches and barren moorland in the Outer Hebrides. St. Ives and the rugged coastline and landscape of west Cornwall have also provided inspiration in recent years. I like the freshness and spontaneity of working in front of the subject, but invariably finish the painting in the studio where the time lapse has served to make adjustments.
My two favourite paintings provide a great contrast of subject matter: the avenue of lime trees in Cassiobury Park and a recent painting of a beach in the Outer Hebrides.
Trees have always held a fascination for me and feature in my work. Not surprising really, a love of wood has been part of my life, working with timber is integral to my cabinet making and furniture restoration business.
Reviewing the development of my work over the years shows I now favour a fresher palette and make full use of the transparent qualities of the watercolour paints.'
Anthony Wildig
Portfolio (some paintings in Anthony Wildig's collection)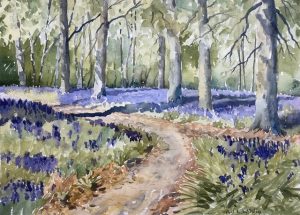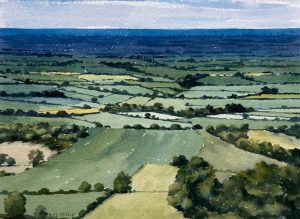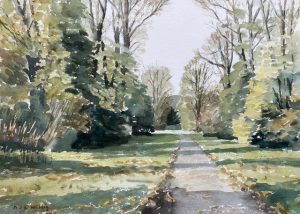 Portfolio (some paintings in the Bushey Museum's collection)