Albert Ranney Chewett
, 
1877–1965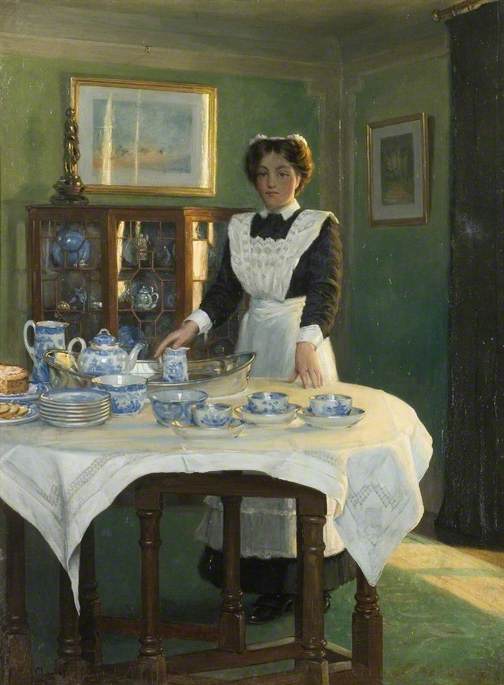 Albert Ranney Chewett, the youngest of a family of six, was born in Canada and came to the England in 1898, when became a student at the Herkomer Art School in Bushey. He later lived and worked in Haalem, Holland and also studied at the Académie Julian in Paris. He returned to Canada to work on commissions in Toronto where he decorated the Rotunda of the Prince George Hotel with scenes of pioneering life and showed at the Ontario Society of Artists show in 1905. Chewett had a studio in Florence, Italy, but later returned to England where he lived in Essex and later in Bushey.
In 1917, Albert's elder brother, James Chewett, a frequent visitor to Reveley Lodge, died suddenly. Albert became guardian of his three daughters, Phyllida, Jocelyn and Gwenydd, and when their mother died in 1924, the three girls came to live at Reveley Lodge. In 1931 Albert Chewett, now aged 53, married Violet Georgina Eila Hamilton-Baillie, known as Eila. She was the daughter of a clergyman, who had died when she was five, and a distant relative of the Earl of Haddington. She was educated at St Margaret's School in Bushey. The marriage took place quietly at Leavesden Parish Church in the presence of a few close friends on Eila's nineteenth birthday.
Because of Albert's inherited wealth, he did not have to work. Initially a keen artist following his training at the Herkomer school, he later dabbled in photography. He did not sell any of his paintings and in 1985 they were discovered in the hayloft over the stables at Reveley Lodge. A number of the paintings feature Reveley Lodge and the Chewett family and some are now displayed in the Billiard Room.
When Albert died in 1965, Eila qualified as a medical secretary and worked for many years for Lester Warner Lowe, an orthopaedic surgeon in Harley Street, London. She also did voluntary work for the Red Cross, taught First Aid courses and became a Red Cross welfare officer. She became the first president of the Bushey Museum when it opened in 1993 and on her death in 2003 she bequeathed Reveley Lodge to Bushey Museum.
Sources: Bushey Museum; Artist Biographies Ltd.
Portfolio - some examples from the Bushey Museum collection