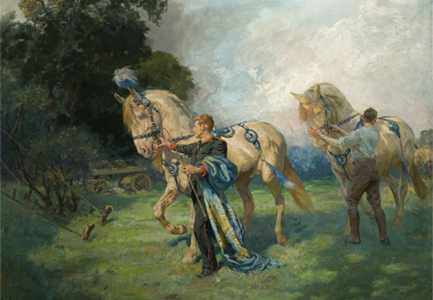 Lucy Elizabeth Kemp-Welch, 
1869 - 1958
Lucy Kemp-Welch, RI, ROI, RBA, RCA was the foremost painter of horses of her time, especially of working horses. She was an expert horsewoman with an innate feeling for horses and knowledge of their anatomy, and her work constitutes a record of some almost vanished breeds. Her works are in many public collections in Britain, including Tate Britain and the Imperial War Museum, and also in Australia, New Zealand and South Africa.
Lucy and her artist sister Edith grew up in Bournemouth and were encouraged to draw and to study the ponies and wildlife of the New Forest. Their formal art training began at the Bournemouth School of Art. In 1892 she and Edith were admitted as students of the Herkomer Art School and Bushey became their permanent home. Lucy became the most distinguished female graduate of the School. She also became the first President of the Society of Animal Painters and one of the first two women members of the Royal Society of British Artists. Herkomer recognised her unique talent when she showed him her first large painting, Gypsy Horse Drovers, now in the Russell-Cotes Art Gallery in Bournemouth. It was inspired by a herd of horses being driven through Bushey. In 1895 it was hung in the Royal Academy and was followed by one or more paintings every year. She is best known for her illustrations to Anna Sewell's Black Beauty, commissioned by J M Dent in 1915. She also painted other farm animals, wildlife, Bushey scenes and landscapes and a few portraits. After Herkomer closed his art school in 1904, Lucy opened hers and students came from all over the world to study animal painting with her. In 1926 Lucy closed her school and spent several summers following John Sanger's Circus, and painting pictures of circus activities. Her former student, Marguerite Frobisher, then formed the Frobisher School of Painting as a successor to Lucy's school.
Portfolio - paintings in The Lucy Kemp-Welch Memorial Trust Collection
Around 130 pictures comprising:
'Now, Auster do your best' (illustration for 'Black Beauty'); A Cockerel; After Sundown, Lulworth, 1956; Aristocrats; Artwork for Book Cover for Black Beauty c.1913; Back of the Cottages; Barnet Horse Fair (illustration from Black Beauty, 1915); Bench Tor, Dartmoor; Book of Birds and Beasts (14 pictures); Breeze and Broad Spaces, a Portrait of Miss Elizabeth Usbourne and her Arab Horse, 1926; Burnt Out Fires, aka Dying Fires; Bushey Church and Pond, 1910; Capt.The Hon. Elyder Herbert; Centaurs; Chewing the Cud; Collage of Horses - preparatory work for 'Something in the Wind'; Colt Hunting in the New Forest, 1899; Cormorant Preening; Drawing of a horse's head, a man with a whip and two other horses; Drawing the Carriage; For Life; FORWARD! Forward To Victory ENLIST NOW; Fox Cubs; Grey Cob; Gypsy Horsedrovers; Handmade greetings card with inscription to Lucy's father; Hauling the Guns; Hay Harvest on the Downs; Head and Shoulders Portrait of a Young Woman; Head of a Horse; Horse with Wheelbarrow; In Hoc Signo Spes Mea; Jerry's New Year; Jubilee Arch at Night; Logging in Grizedale; Man in Tudor Costume 1900; Man Leading Two Horses; Man with Horses in front of St. James, Bushey; Mare and Foal verso: Heads of Horses; Mixed Company at a Race Meeting; Moorland Scene; Orpheus and Pan; Out of True; Polo - the Great Game (2 pictures); Polo-The Great Game, aka Polo Match, aka Polo; Ponte Santa Trinità, Florence; Portrait of Mrs. Ironside, c.1916; Portrait, probably of Mr A. Tollemache; Self Portrait with Tenpence, 14 March 1946; Shire Horses's Heads; Shirehorse Hindquarters; Sketch for a Portrait of a Woman in Riding Gear; Sketch for Carnival Queen Tableau, Bushey Jubilee Celebrations, 6 May, 1935; Sketch for 'Forward the Guns'; Sketch for 'The Bite of the Drifted Snow'; Sketch for 'Womens' work in the Great War'; Sketch of Shire Horse and Foal; Sketches of Horses 14 September, 1888; Skylark (unfinished); Souvenir Invitation and Menu April 15th 1910 Bushey Conservative Association; 'Spes Mea Non Fracta', 1918; St. James' Church, Bushey; Stage Coach halting for a Woman and Child, 1897; Standing Stag; Steam shovel with horses passing; Studies of a Foal; Studies of a Leg, Feet and an Arm, January 10-11 1909; Studies of Cattle; Studies of Sheep; Studies of Stags; Study for Forward the Guns; Study for 'Start at Goodwood'; Study for 'The Morning' (2 pictures); Study for 'The Riders'; Study of a Goose Taking Flight; Study of Cattle; Symbol of the Society of Animal Painters; The Bird Book (5 pictures); The Call, aka The Launching of the Lifeboat, 1937; The Clergyman; The Cloud Mirror; The Elephant Queen; The Jubilee Arch, Bushey, 1935 (2 pictures); The Morning; The Plough Team; The Timberhauler; The Village Street; The Warrior; The Woodcutters Team; The Year's at the Spring; Three Fox Cubs; Timber Hauling in the New Forest (2 pictures); To Arms - May 22 1455 (sketch for the Battle of the Roses at St. Albans); Tommy and the Steamroller; Tommy and the Steamroller - letter on reverse; Two Goats Browsing; Two Horses; Two Horses Being Led; Two Horses in a Meadow, 1896; White Horse - unfinished; With the Circus: Watering the Horses; Woman in Crinoline; Working in the Fields by an East Coast Estuary.
Some examples...