Ethel Léontine Gabain, 1883–1950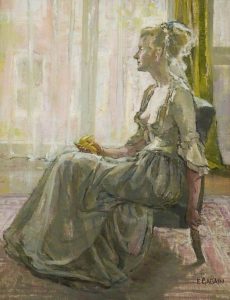 In May we commemorate VE Day 75, so we've chosen Ethel Gabain as our 'Artist of the Month'. During World War Two, Gabain was commissioned by the War Artists' Advisory Committee (WAAC) to produce lithographs of various subjects throughout the UK including the work of the Women's Voluntary Services members.
She was born in France but received her formal art education in London – at the Slade School of Fine Art (1902) and the Central School of Arts and Crafts (1904–06) – as well as in Paris (1903–04). In 1910 she co-founded the Senefelder Club, along with her future husband John Copley and A.S. Hartrick, and which sought to promote the art of lithography. In 1926, she provided illustrations for Anthony Trollope's The Warden.
Gabain had four sisters and one brother. Their father, Charles Edward Gabain, was a well-off French coffee importer and on his retirement he and his wife Bessie moved the family to England to The Manor House, Bushey.
The War Artists' Advisory Committee (WAAC) was established in 1939 and met monthly at the National Gallery. Sir Kenneth Clark, set up and chaired the Committee, whose brief was 'to draw up a list of artists qualified to record the war at home and abroad' and '...to advise on the selection of artists on this list for war purposes and on the arrangements for the employment.' The WAAC accumulated a significant collection, which covers an unparalleled range of wartime subjects. Most of the collection is now at the Imperial War Museum, including at least 38 of Ethel Gabain's works, some of which are lithographs. Gabain received a range of commissions from the WAAC. By wartime she had become a well-known and respected printmaker - she was asked to make a series of lithographs of women in industry, medicine and agriculture, and in particular the evacuation of children. She was also a painter, and often created theatrical portraits of female actors in character, as well as scenes of the war with a focus on the work of women. She also did etchings, dry-points, as well as some posters. She was a member of the Royal Society of British Artists, the Royal Institute of Oil Painters, and was elected president of the Society of Women Artists in 1940.
Whilst living and working in Paris Gabain began to work on a theme centred on 'melancholic young females.' She produced numerous lithographic images of a lonely young female. Gabain revisited this theme later on in her career and produced several different images of a sad young bride. She always used her favourite model, Carmen Watson, in these depictions. By the time Carmen was married in 1940 she had posed over sixty times for Gabain. The melancholic theme continued with images centred on Pierrot and Columbine. Pierrot was based upon the character portrayed by Jean-Gaspard Deburau, a poignant, passionate and tragic person who plays the role of a sad clown madly in love with Columbine, a beautiful, young ballet dancer. Gabain loved the ballet and produced a series of young ballet dancers in different medias.
In 1922, Monsieur Edmond Paix, a French collector, commissioned a special edition of 495 copies of Jane Eyre from the publisher Monsieur Leon Piton of Paris. He had seen one of Gabain's lonely female lithographs, The Striped Petticoat, and commissioned her to produce twenty-two lithographs for his edition, including a ghostly apparition of Jane Eyre. In 1924, Gabain received a commission for nine lithographs for The Warden by Anthony Trollope, and this was published by Elkin Mathews and Marrot Ltd., in 1926.
Throughout the War, Gabain recorded women working in what, in peacetime, had been traditionally male crafts and trades. As well as women salvage workers, factory workers, ARP wardens and air raid workers, Gabain produced a portrait of Captain Pauline Gower of the Air Transport Auxiliary. Her WAAC commissions allowed her to explore her interest in the innovative medical techniques which were being developed during the war. In 1944, as well as depicting Sir Alexander Fleming working in the laboratory where he had discovered penicillin, Gabain also recorded, in 'A Child Bomb-Victim Receiving Penicillin Treatment', a young girl being treated with the drug. She recorded pioneering treatments of burns victims, including the introduction of a new continuous irrigation method.
Sources: Bushey Museum, Wikipedia.
Portfolio - some pictures in the Bushey Museum collection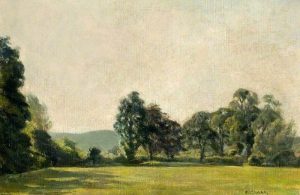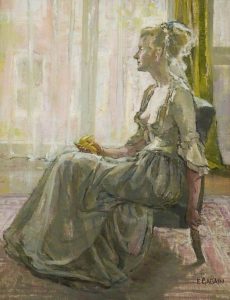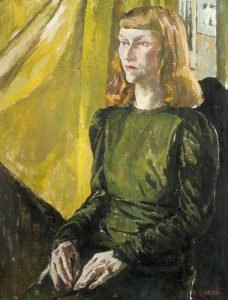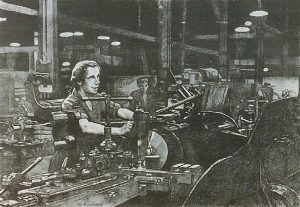 Other resources
Wikipedia, click here.
Wikiart, click here.
National Galleries Scotland, click here.
Imperial War Museums, click here and search for content.
Facebook 'Female Artists in History', click here.
See many examples of her work on the Art UK website.
If you would like more information, please contact our Local Studies Centre.
---
Click to go to Artists Biographies
May 2020