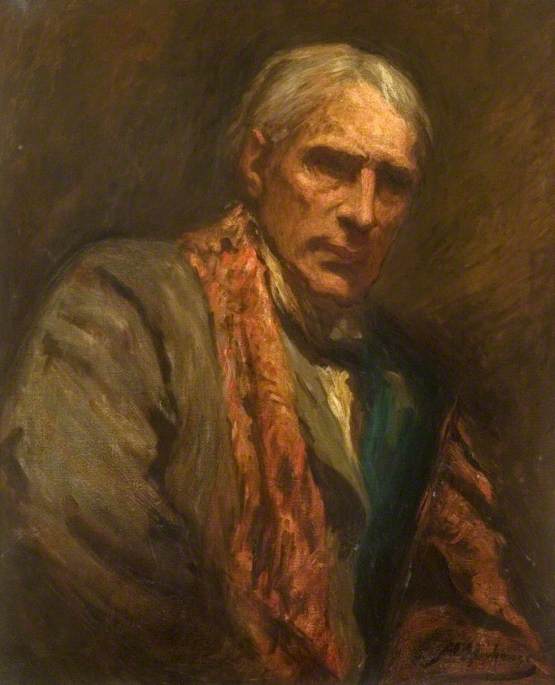 The Art School was established at Bushey in Hertfordshire in 1883 by Sir Hubert von Herkomer, CVO RA to teach composition, landscape and portraiture. It catered for an average of thirty students a year and admitted both sexes, although women had to be under twenty-eight and unmarried. When the School closed in 1904, it had taught more than 500 students during the twenty years of its existence, many of whom, such as Algernon Talmage and William Nicholson, went on to achieve distinction. Much of the success of the school can be measured by its alumni who included Lucy Kemp-Welch, who directed the School after Herkomer, George Harcourt, Tom Mostyn, E. Borough Johnson and Roland Wheelwright. [1]
To read more about Sir Hubert von Herkomer, CVO RA click here.
Artists who studied at Herkomer's Art School
Click here for a list of over 350 of the artists who studied at Herkomer's Art School, and whose paintings are part of the Bushey Museum's collection.
We'll add details of these artists over time. Here is a start…
---
Lucy Elizabeth Kemp-Welch, RI, ROI, RBA, RCA (1869-1958)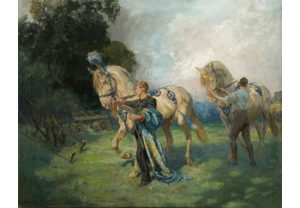 Lucy Kemp-Welch was the foremost painter of horses of her time, especially of working horses. She was an expert horsewoman with an innate feeling for horses and knowledge of their anatomy, and her work constitutes a record of some almost vanished breeds. Her works are in many public collections in Britain, including Tate Britain and the Imperial War Museum, and also in Australia, New Zealand and South Africa.
The Museum includes an exhibition of many of her paintings. The works show wild ponies running spiritedly across Exmoor; well-groomed polo ponies galloping after the ball; the last horse-launched lifeboat being pulled into a boiling sea; the great Hanoverian creams of Sanger's Circus parading with majestic gait; huge heavy horses pulling felled timber or a circus caravan on the move; hard working farm horses trudging home at the end of the day, their coats glistening in the low evening sun. Not least there is a row of horses of all sizes, colours and disposition, from thoroughbreds to the lowliest carter's horse, standing tethered to a rope barrier, patiently, restlessly or with aristocratic air.
See more about the Lucy Kemp-Welch Gallery here.
---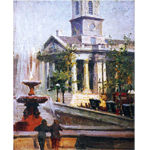 Frank Gascoigne Heath (1873 – 1936)
Frank Gascoigne Heath was a student at Herkomer's Art School from 1897 to 1900. He then moved to Cornwall (Newlyn, Polperro and Lamorna) where he lived for the next 35 years. There is an impressive website www.frankheath.com which includes illustrations of around 100 of his works, including "St. Martins in the Fields Church" which he painted while he was a student at the Herkomer Art School – click here to see more about this painting. On the reverse of the painting is written the address '6 Chapel Studios, Bushey, Herts'. Frank was very versatile in his range of subjects and his style changed after the Great War when his palette became much brighter and when he was known locally in the 1920s as "the sunshine artist".
Some comments on the picture: "The fountain shown was erected in Trafalgar Square in 1845 to a design of Charles Barry, but was replaced in the late 1930s with designs by Sir Edwin Lutyens (the ones that we know so well today). On the right side of the painting can be seen a popular form of transport in the late Victorian times of passengers riding in the top of the double decker horse drawn omnibus."
To read more about Frank Gascoigne Heath on the website of Penlee House Museum and Gallery, Penzance, Cornwall, click here.
Thanks to Hugh Bedford for this information.
[1] Text source – Artist Biographies Ltd., www.artbiogs.co.uk.