A Quiet Revolution: Bushey Women Artists
Council Chamber
26th January – 16th June 2019
View Virtual Tour 1     View Virtual Tour 2     View Virtual Tour 3     View Virtual Tour 4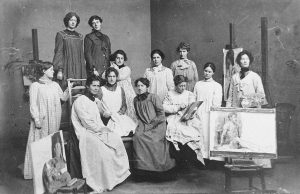 The place of the Victorian woman was in the home. Domesticity and motherhood were considered by society at large to be sufficient emotional fulfilment for females. Everything artistic belonged to the male sphere – independence, self-reliance, competitiveness. If middle-class women wished to express themselves in art it was to acquire accomplishments, playing a musical instrument, singing and other home-based pursuits.
However, as the 19th century moved towards its end so the number of social reforms to change the status of women was increasing. Also, women's education was very slowly progressing – the Royal Academy allowed women into their Antique Schools in 1862, even though the requirements to join were inferior to those required for the male students. And men and women were segregated in all classes.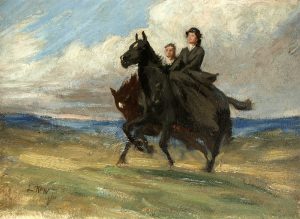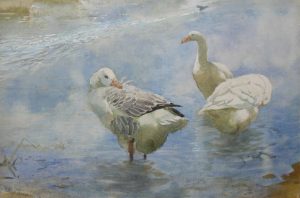 A great number of budding artists applied for admission to the Herkomer School of Art in 1883; this was many more than could be accommodated. Herkomer accepted 15 female students in that first year. As the school developed young ladies of late teenage and early 20s left their homes and families in the Home Counties, Yorkshire, Shropshire, Scotland, or even as far as Australia to travel to rural Bushey and accept the conditions set down by the Master: "The qualifications were : a head from life, drawn in charcoal; ….the student must stay, when once accepted, for three terms (nine months) and live in Bushey".
Opening an Art School in rural Bushey was an experiment. At that time Bushey had few facilities, but as Herkomer related "[I] dwelt rather romantically on the idyllic life the students were going to lead in this village". And idyllic it must have been, because a great number of students came and stayed, some for a short time, say, two or three years, some for a much longer time, in some cases for the rest of their lives.
A very few students were accompanied by their families. Some met their partners in life, although in most cases they then had to leave the School, as Herkomer did not accept married women as art students. Once married, in his opinion, a woman should "devote her life to her husband and children".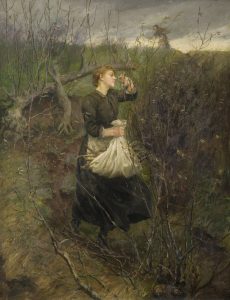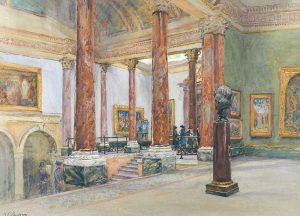 A good number of Herkomer students became very successful artists, some as graphic artists, producing greetings cards, postcards, working as illustrators for magazines and other commercial concerns and some, inevitably were never heard of again. Others travelled, some far distances, having adventurous and precarious art careers.
The year Herkomer opened his School of Art, 1883, a motion was proposed in Parliament for women's suffrage and was defeated. It would be another 35 years before certain women were allowed the vote. The Herkomer School of Art was a small step towards opening up to the female world and a chance to express themselves artistically, even the opportunity to work from the male nude. These young women could live independently, at the same time, Herkomer gave individual guidance and a safe environment in which to work, play and to discover their own potential. A quiet revolution indeed.