Kate Cowderoy and the Bushey Art Colony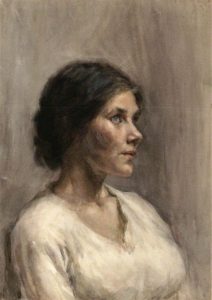 Council Chamber
21st January – 18th June 2023
Kate Cowderoy joined the Herkomer School of Art in 1899 and stayed in Bushey for the rest of her life, - her long life — she died in 1972 at the age of 97, the last surviving Herkomer student. It was not too long after she had enrolled that her whole family — her parents, 4 sisters and two brothers - joined her in Bushey, taking up residence in Hillside Road, next door to another Herkomer student, Alfred Usher Soord and his family. The Cowderoy family moved to Adnam Cottage, Finch Lane in 1924. Kate specialised in miniature painting and designing postcards for Raphael Tuck and Sons Ltd, a flourishing card business, which was very successful at the beginning of the 20th century. Her work was exhibited at the Royal Academy and with the Society of Women Artists.
During the time of Kate Cowderoy's active artistic career, up to the outbreak of the Second World War in 1939, Bushey was a thriving community of art students and teachers, as well as commercial and amateur artists. This exhibition sets out to display the work of some of the artists who would have been working in Bushey at the same time as Kate Cowderoy and who would have known her and perhaps socialised with her and her family.
Other artists' works included in the exhibition are: Dorothy Adamson, George Owen Apperley, Sybil Barham, William Henry Burney Bennett, Myrtle Broome, Louie Burrell, Marmaduke Flower, Joseph Wilson Forster, Ethel Leontine Gabain ROI, RBA, Mabel Gear RI, ROI, Rachel Gilham, Elizabeth Gulland, Elizabeth Alethea Harcourt, George Harcourt, Bertha Herkomer, Ernest Borough Johnson, Esther Borough Johnson, Edith Kemp-Welch, Eva Old, Gerald Palmer, Harold Septimus Power, RI, ROI, Lewis Charles Powles, Alfred Usher Soord, Helen Stewart, Edward Bent Walker, Elizabeth Baldwin Warn, Amy Mary West, Roland Wheelwright, John William Whiteley, Kathleen Wilson and Alice B Woodward.
(Exhibition Organisers: Pat Woollard and John Gerry)