Love among the Easels - the Herkomer School and Art and Romance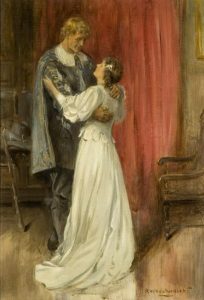 Council Chamber
2nd July 2022 until January 2023
In his qualifications for entrance to his School of Art, Herkomer stated "married ladies and ladies above the age of 28 are not eligible for admission". As he saw it, this ruling directed a female student's concentration exclusively towards her art.
However, nature being what it is – an artistic temperament, a glance across a crowded studio, the turn of a paint brush! And romance blossomed.
The artworks in this exhibition are by a number of those students who met their partners while at the Herkomer School of Art.
Exhibition Organisers: Pat Woollard and John Gerry