20/20 Vision – 200 Years of history in Bushey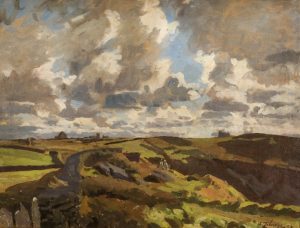 Anne Blessley Gallery
(Exhibition Organisers: Museum Team)
To mark the new decade, this exhibition plays on the phrase '20/20 Vision'. It has nothing to do with being able to see perfectly, but concentrates on items in the Museum's collection from 1820 and 1920 with additional loan items completed in 2020.
1820s During the middle of the first decade of the 19th century Dr. Thomas Monro settled in a cottage in Bushey, living there for the next 28 years. He occupies an outstanding position in the history of British watercolour art. Before he came to Bushey he maintained an academy of painting at his Adelphi Terrace residence, where he would welcome young artists, such as Thomas Girtin, J.M.W. Turner and William Henry Hunt to copy works by J.R. Cozens, Richard Wilson and others. This encouragement of artists continued when he moved to Bushey. Dr. Monro's other contribution was to produce a number of talented artistic sons, Henry, John and Alexander, - work executed during the 1820s by John and Alexander feature in this exhibition.
1920s In 1905 Lucy Kemp-Welch took on the mantle of Herkomer's Art School with the name of The Bushey School of Painting (later the Kemp-Welch School of Animal Painting) and then in turn passed the teaching over to her assistant, Marguerite Frobisher in 1926. Consequently during the 1920s Bushey continued to be a thriving centre for artists, - artists who had attended the Herkomer School of Art and had remained in Bushey, artists attending the Bushey School of Painting, artists being taught by students of Herkomer and artists who specialised in printing techniques in co-operation with H.T. Cox and Sons.
AND NOW IT IS 2020  and we have relied on the generosity of artists who are practising today in the community, who are upholding the tradition of Art in Bushey. They have kindly agreed for the Museum to have the items on loan until the end of the exhibition.