'

Up Your Street' - commemorating Bushey artists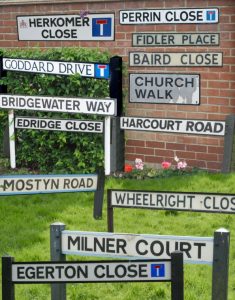 Anne Blessley Gallery
3 August 2019 – 26 January 2020
(Exhibition Organisers: Pat Woollard & John Gerry)

This exhibition celebrates streets in Bushey which have been named to honour well-known local artists. On display are paintings and other pictures by these artists, together with their street name signs. Over a dozen local roads are named after artists: not only Sir Hubert von Herkomer and Lucy Kemp Welch but also some of their students. Expect some surprises! Enthusiasm for naming Bushey streets after artists has led to a couple of roads 'borrowing' the names of world-renowned artists with no connection at all to Bushey. Maybe you can guess which these are! Do come along to see how these artists have been commemorated in our local streets.
The street names of Bushey, as elsewhere, are many and various.  Some are obviously geographical; Chalk Hill, Clay Lane, Sandy Lane.  Some reflect Bushey's rural past; Harvest Road, Meadow Road, Farm Way, Cornfield Road. Some for their natural features, Woodlands Road, Woodfield Road, Spring Crofts.  The names of a few roads must have seemed obvious as in Cross Road, The Close and The Avenue and of course most towns have a High Street and Bushey Heath up the hill also boasts a High Road.
Formerly big houses had an influence e.g. Bournehall Avenue, Sparrows Herne (Haven), Bushey Hall Road, Caldecote Gardens and Hartsbourne Road and other prominent buildings would have dictated names, such as Windmill Street and School Lane.
Very often themes are used for naming groups of dwellings – on the Warren Road estate there was Warren farm where the Comyns family lived.  The Bird estate boasts a Wren Crescent, a Goldcrest Way and a Linnet Close etc.
And there are the commemorative street names, King George Avenue, King Edward Road. Some streets are named after local worthies, such as Somers Way and Nimmo Drive and after Rectors of the parish, Falconer Road and Montague Hall Place.
However, many of Bushey's thoroughfares have the name of an artist with local connections, confirming the influence of the art community that thrived here in Bushey.  This exhibition sets out the streets and connects them to the respective artists work.
Many of the names of the roads were suggested by one of the founders of Bushey Museum Trust, the late Bryen Wood and were accepted.  Only recently Perrin Close was suggested by our Local Studies Officer, Audrey Adams.  This is particularly relevant as a number of Bushey pottery items has just been accepted into Bushey Museum's collection. These were produced by Ida Perrin with the help of Fred Passenger in The Cottage, which was just a few yards away from Perrin Close on Bushey High Road.