Travels with my Sketchbook – Beyond Bushey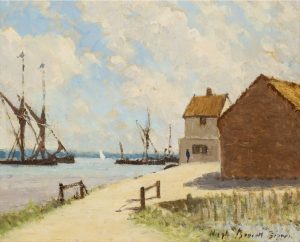 Council Chamber
3rd July 2021 to 9 January 2022

Exhibition Organisers: Pat Woollard & John Gerry.
The students of the Herkomer School of Art came from far and wide.  Their tuition time at the School completed, some of them remained in Bushey, some returned to their original homes, but a good many proceeded to take up their palettes and travel, either throughout the British Isles or abroad.
As a result of exhibiting their work, a number of Herkomer students would have received commissions for portraits, illustration work and design and practising artists needed to go where the work demanded.
With the aid of new inventions of paint tubes and portable box easels and the general improvement of transportation, Bushey Artists, as many other artists, were drawn to venues offering stunning landscapes or seascapes, especially where the quality of light allowed them to absorb new 'impressionist' ways of experiencing light, experimenting with brushstrokes, colour, form and level of finish.
Since the middle of the 19th century, artists have been drawn to the Cornish coast, capturing on paper and canvas the shimmering sunlight on water and rawness of rocks and waves. Devon, Somerset and Dorset offer beautiful unspoiled countryside with rolling hills, stunning views and wild coastlines.
East Anglia has long been a magnet for artists with its natural coastal beauty, full of charming villages and medieval towns, topped with breath-taking skies.  Scotland, Wales and other areas of natural beauty all hold an invitation and inspiration to use a paintbrush.
This exhibition includes not only Herkomer School artists, but also those who came after, continuing the dissemination of Bushey's artistic heritage.
Pat Woollard