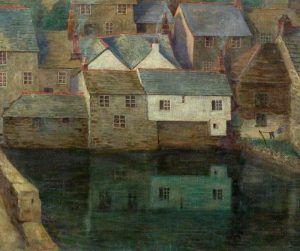 Colonising Cornwall: Bushey Artists in the West Country
Until 16 April 1923
Anne Blessley Gallery
Once Bushey artists had completed their studies, a number of them progressed to the art colonies that had developed in Cornwall. Up to the middle of the 19th century the peninsula of Cornwall remained remote and unknown to the rest of the British Isles. A few intrepid artists had been inspired, J.M.W. Turner for one, but it was not until a rail link was established – Brunel's bridge over the River Tamar at Saltash was built in 1857 - and the railway followed in around 1877, that travel to the coastal villages became more general.
It was not too long before artists and art lovers were travelling to experience the wonderful quality of light, tranquil setting and intense colours, as well as the rugged
and romantic scenery. Once there, they settled, taking advantage of the equable and inexpensive life-style. They formed art colonies, painted plein air, and used the local fishing and sea-going communities as subjects. The dramatic and breath-taking cliff walks and the rapidly changing moods of the Cornish landscape, as well as the blue reflection of the sea and gold of the sands acted - and still acts - as inspiration to many artists. Bushey artists were no exception and this exhibition highlights the work of those who travelled south to gain additional experience.
(Exhibition Organisers: Pat Woollard and John Gerry)