For more details of each of the Exhibitions, click on the links below.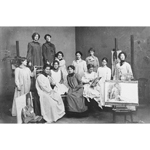 Council Chamber
26 Jan to 16 June 2019
The Herkomer School of Art was innovative in many ways, not least its acceptance of women students working alongside their fellow male students.
Click here for more.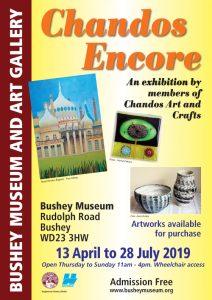 Art Gallery
13 April to 28 July 2019
A selling exhibition where Chandos Arts and Crafts present a new collection of their members' work. As well as painters who use a variety of media and work in different styles, this group of friends has craftsmen / women who work with glass, wood, textiles, ceramics and jewellery to create a varied and interesting display.
Click here for more.
Jubilee Room
New exhibition to be added soon.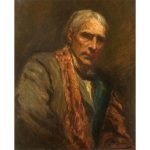 Herkomer Room
Permanent display
The life, work and castle of Sir Hubert von Herkomer RA, also his School of Art, and including some of his most notable paintings.
Click here for more.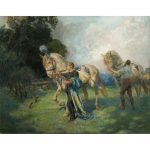 Lucy Kemp-Welch Gallery
Permanent display
She was the foremost painter of horses of her time, and well known for her illustrations for Black Beauty by Anna Sewell.
Click here for more.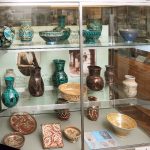 Local History Galleries
Permanent display
A comprehensive display of local Bushey pottery and industry artefacts including police, fire brigade and schools.
Click here for more.
Upcoming Exhibitions
More to be added soon!
Archive of previous Exhibitions
Since the start of 2019 (when the new website went 'live') we have been keeping information about previous Exhibitions in an Archive area of the website. This includes the Exhibition page that was on the website at the time, as well as the 'Virtual Tour' images where available. These previous Exhibitions include: Arts and Crafts Listed Buildings (January 2019 to May 2019, Jubilee Room); Drawn from Life (December 2018 - April 2019, Art Gallery); 25th Anniversary of the Opening of the Museum (September 2018 to January 2019, Jubilee Room); A Village Remembers (September 2018 to December 2018, Art Gallery) and Back from the War (July 2018 to January 2019, Council Chamber).
To go to the Archive area, click here.