For more details of each of the Exhibitions, click on the links below.
A Quiet Revolution: Bushey Women Artists
Opens on Sat 26th January  in the Council Chamber
The Herkomer School of Art in Bushey was innovative in a number of ways but particularly in its acceptance of women students working alongside their fellow male students.
Click here for more.
Drawn from Life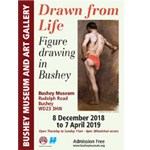 Art Gallery
8 Dec 2018 to 7 Apr 2019
Pictures from life classes at the Herkomer School of Art, as well as studies by other Bushey artists.
Click here for more.
25th Anniversary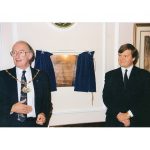 Jubilee Room
from 8 Sept 2018
A celebratory look back over the Museum's last 25 years with photographs and memorabilia.
Click here for more.
Sir Hubert von Herkomer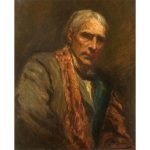 Herkomer Room
Permanent display
The life, work and castle of Sir Hubert von Herkomer RA, also his School of Art, and including some of his most notable paintings.
Click here for more.
Lucy Kemp-Welch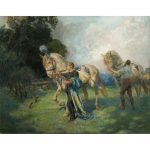 Lucy Kemp-Welch Gallery
Permanent display
She was the foremost painter of horses of her time, and well known for her illustrations for Black Beauty by Anna Sewell.
Click here for more.
Local History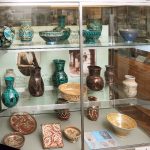 Local History Galleries
Permanent display
A comprehensive display of local Bushey pottery and industry artefacts including police, fire brigade and schools.
Click here for more.
Chandos Encore
Art Gallery
13 April to 2 June 2019
A selling exhibition, in which Chandos Arts and Crafts present a new collection of their members' work. As well as painters who use a variety of media and work in different styles, this group of friends has craftsmen/women who work with glass, wood, textiles, ceramics and jewellery to create a varied and interesting display.