These pages feature Biographies of artists from Bushey, including those who went to Herkomer's Art School and other local Art Schools. We plan to add more Biographies over time - any contributions will be gratefully received! Click on the names on the left to see their Biography.
Artists
with biographies included

Garnier, Geoffrey Sneyd
Heath, Frank Gascoigne
Kemp-Welch, Lucy Elizabeth
Other Bushey artists
biographies yet to be added - contributions welcome!

Adams, Chris (1867–1960), more at Art UK
Adams, William Dacres (1864–1951), more at Art UK
Adamson, Dorothy (1894–1934), more at Art UK
Adsley, Pam
Akerman, James
Alexander, Herbert
Alliott, Irene
Andre, Richard (1834–1907), more at Art UK
Annan & Swan
Ansell, Elizabeth (b.1932), more at Art UK
Anthony, Ripley O.
Apperley, George Owen Wynne (1884–1960), more at Art UK
Arnot, Guido
Ashton, William (1853–1927), more at Art UK
Ault, Norman (1880–1950), more at Art UK
Baird, Nathaniel Hughes John (1865–1936), more at Art UK
Balcomb, Eileen
Ball, David A.
Balshaw, Fred
Barham, Sybil (1877–1950), more at Art UK
Barrett, Roy
Bate, Emily Spence
Bateson, Edith (1867–1938), more at Art UK
Becker, Harry
Beckles, Evelyn Lina (1888–1986), more at Art UK
Bedford, Percy
Bell, Lilian Russell
Bennett, Gertrude H.
Bennett, William Henry Burney (1878–1917), more at Art UK
Beresford, Frank Ernest
Bestow, Simon
Bevis, Frederick
Bieber, E
Biegel, Peter
Bishop, Lindsey
Blount, Godfrey
Boden, Lizzie
Bogle, William Lockhart
Bourne, James
Boycott-Brown, Michael
Boyd, A S
Boyd, Graham
Brailey, Eddie
Brennan, Madeleine
Bridgwater, Henry Scott
Brooke, Amy A.
Broome, Mollie Hesketh (1910–1994), more at Art UK
Broome, Myrtle Florence
Brown, Allan Robert
Brown, Hugh Boycott
Brown, John Alfred Arnesby
Brown, Robert
Bruhl, Louis Burleigh R.B.W.A., R.C.A. (1862–1942), more at Art UK
Bull, Stanley C.
Burns, Cecil Lawrence
Burrell, Louie (1873–1971), more at Art UK
Butler, William E.
Buxton, Robert Hugh.
Cadman, Ronald L.
Chalk, Simon
Chamney, Catherine Rosabelle (1894–1966), more at Art UK
Chewett, Albert Ranney
Cholmondeley, Hilda
Chowns, Douglas (b.1937), more at Art UK
Church, Bernard
Clarke, Henry Francis
Clarke, Pollie
Coates, Bart
Cohen, Minnie Agnes (1864–1940), more at Art UK
Collins, Brian A
Cook, Gary Wayne
Cooke, W. B.
Cooper, Catharine Constance Cooper (1868–1960), more at Art UK
Cottrell, John Augustus
Cowderoy, Kate Ethel (1875–1972), more at Art UK
Cox, Arthur Leonard
Cox, George
Crawford, Thomas Hamilton
Cruttwell, Grace
Cusack, Shirley A.
Davis, Cyril
Davis, Gordon
Davis, Kay Elaine
Davy, Clement, more at Art UK
Dennis, Ada L.
Dickens
Donald-Smith, Helen
Douglas, Gordon Charles
Dry, Marlie
Edlin, Rebecca
Edmonds, Angela
Edridge, Henry
Emsley, Walter
Fadelle, Clare Exodie
Fairbairn, Hilda
Fedden, Arthur Romilly
Flagg, James Montgomery
Fleming-Williams, C R
Fletcher, Arnold
Flower, Marmaduke C. William
Ford, Edward Onslow
Ford, Henry Justice
Forsdyke, Miss K
Forster, Joseph Wilson
Forstier-Walker, Mollie
Forty, Frank
Fowler, Beryl
Freer, Roy
Frobisher, Lucy Marguerite
Gabain, Ethel Leontine
Gainsborough Galleries
Garnett, Alfred Payne
Garside, E. W.
Gear, Mabel
George, Ernest
George, Herbert
Gerry, John
Gibbons, George
Gibbs, Herbert Edward
Gilby, William Henry
Gillham, Rachel Whitford
Gilpin, Arthur
Glidle, Thelma
Goddard, Eric James
Goffey, Harold
Goodliffe, Shirley
Gordon, Hilda May
Goulding, Frank
Gower, Francis
Graham, Frederick W
Grant, Lewis John M.
Green, Lorna Mary
Greenfield, Terry
Greenwell, John
Greville, Don
Griffin, Reg. E.
Gulland, Elizabeth
Haddon, Arthur Trevor
Hamperl, Elaine
Harcourt, Anne
Harcourt, George
Harding, Rachel Marie
Harford, Alice
Harford, Beatrice
Harley, George
Harvey, Norma
Harwood, Edith
Haynes, Elsie Haddon
Head, David
Hearne, Thomas
Hedges, Percy Nevin
Henson, Robert
Herald, James Watterson
Herkomer, Bertha
Herkomer, Herman Gustav
Herkomer, Hubert von
Hewetson, R.
Hewitt, Nell
Higgins, Donald
Hill, Robert W.
Hill, Rowland Henry
Hinchliff, Woodbine Kendall
Hink, Claud
Hirst, Norman
Hodgson, Edward S.
Holgate, Thomas W.
Holmes, Marcus Henry
Holliwell, Elsie
Horsfall, Mary
Hudson, Hilda M.
Huggins, Wilfrid
Humphries, James H.
Hullmandel, C
Hunt, William Henry
Hyndman, Arnold
Ibbetson, Ernest
Ibrom, Jill
Inchbold, Stanley
Irwin, Gwyther
Jackson, Douglas
Jarvis, Roland
Jay, Cecil
Jex-Blake, Evangeline
Jobson, Patrick Arthur
Johnson, Ernest Borough
Johnson, Esther Borough
Kemp-Welch, Edith Mary
Kemp-Welch, Margaret (1873–1968), more at Art UK
Kindon, Mary Evelina
Klackner C
Kortright, Henry Somers
Langham, J
Lascelles
Leader, Benjamin Eastlake
Ley, Margaret
Linton, William Evans
Longman, Ernest Grant
Lubkin, Sonia
Lyles, George Albert
Lyon, Ian
Mackinlay, Miguel
Maitland, Edward Fuller
Maitland, Peregrine K.C.B. Sir
Manton, George Grenville
Marshall, Winifred
Martin, Sarah Jane
Mason, Frank
Massey, Henry Gibbs
Maynard, Bessie
Meadows, Chris
Metcalfe, Gordon
Micklem, Hugh
Miles, Maureen A.
Miller, Gerry
Milner, Elizabeth Eleanor
Monro, Alexander
Monro, Henry
Monro, John
Monro, Thomas
Morris, Charles Greville
Morris, Gillian D.
Morris, Olwen
Moss, Nick
Mostyn, Thomas Edwin
Mullett, David
Mulock, Frederick Charles
Nance, Beatrice Morton
Nance, Robert Morton
Nevil, E.
Nicholson, William
Nunn, Mary
Ogilvie, Frank Stanley
Oldmeadow, James Charles
Oliver, Emma Sophia
Orr, Monro Scott
Owen, Christopher
Owtram, Robert Lancelot
Palmer, Gerald
Parrish, Ted
Parsons, Beatrice
Pasmore, Alfred
Paul, Paul
Pedley Ada E.
Pemberton, Teresa
Perrin, Ida Southwell
Peskin, Jan
Piech, Paul Peter
Potter, William H.
Pouncy, B. T.
Power, Harold Septimus (1879–1951), more at Art UK
Powles, Lewis Charles
Prescott, Claude Oscar
Prince, Matthew
Rackley, Judith
Randall, Richard John
Reid, William B.
Reno, Carrie
Renoir, L.A.L.D. (b.1922)
Rhodes, Bertha
Rogers, Carol
Rolt, Vivian G.
Rose, Jean
Rosser, John
Rowney, Margaret
Russell, Caroline
Saltmer, Florence A. (active 1886), more at Art UK
Savage, Peter
Sawyer, Amy
Sawyer, William
Schaïk, Willem Henri van
Seale, Louise Ellen Mary
Seaman, Desmond
Sewell, L. J.
Sewell, William A.
Seymour-Whiteley, Richard
Simmonds, Joseph
Simpson, Charles
Simpson, Charles Walter
Sims, William A.
Slaney, Mr. Anthony A
Sloane, Mary Anne
Smith, Miller
Smith, Monica J.
Soord, Alford Usher
Souttar, Anna
Sowerby, H.
Spark, Margaret B.
Spence, Harry
Spencer, Claire
Spencer, Diana
Spiers, Jan M.
Sprague & Co
Stainton, Alice
Stamp, Ernest
Starmer, Walter Percival
Stephenson, George V.
Stevens, Augusta
Stevens, Gertrude
Stewart, Helen
Stiles, Pat
Stokes, Nicola
Stone, Jon
Storey, Rosemary
Surie, Barry
Sutcliffe, John Earnshaw
Sutton, Herbert F.
Sutton, Sara Mildred
Swain, Sc
Sydall, Joseph
Talmage, Algernon Mayow
Tarver, Josephine
Taylor, Mary V.
Teague, Violet
Tear, Adolphus
Teasdale, Percy Morton
Temple, Eleanor Stewart
Thatcher, Bryan A.
Thornhill, Emma
Thornton, Kathleen
Tilney, Frederick Colin
Tily, Eugene
Titcomb, William Holt Yates
Torres, Maria
Townend, Christine M.
Turner, Winifred
Urwin, Jean
Vane, Kathleen Airini
Vogt, Manfred
Voss, Charles J.
Walford, Amy Isabel
Walker, Edward Bent
Walker, Mary A.
Walton, Joan
Ward, Ethel
Warn, Elizabeth Baldwin
Waters, Charles Robert
Waters, Jo
Wehrschmidt, Daniel Albert
Wehrschmidt, Emil
Weinhopfel, F.
West, Amy Mary
Wheelwright, Jane Elizabeth
Wheelwright, John Sylvester
Wheelwright, Rowland
White, Dennis
White, F.
White, Horace Constantine
White, Vicky Hazel MSWA
Whiteley, John William
Whiteley, Margaret Ellen
Whitworth, Peter
Widgery, Frederick John
Wildig, Anthony
Wilkinson, Kate Stanley
Wilkinson, Reginald Charles
Willatts, Percy Stone
Williams, Cynthia Ruth
Williams, John H.
Wills, Julie
Wilson, Edward Adrian
Wilson, Kathleen
Withers, Henry Brett
Wolseley, Garnet Ruskin
Wood, June
Wood, William T.
Woodhead, Beatrice A.
Woodward, Alice Bolingbroke
Woodward, Ellen Caroline
Woodward, Mary Louisa
Woollard, Anthony
Worthington, Jane
Young, William Blamire
Frank Gascoigne Heath
1873 – 1936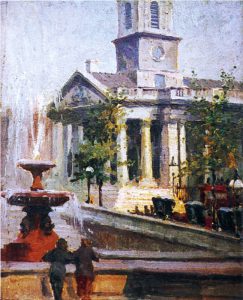 Frank Gascoigne Heath was a student at Herkomer's Art School from 1897 to 1900. He then moved to Cornwall (Newlyn, Polperro and Lamorna) where he lived for the next 35 years. There is an impressive website www.frankheath.com which includes illustrations of around 100 of his works, including "St. Martin in the Fields Church" which he painted while he was a student at the Herkomer Art School. On the reverse of the painting is written the address '6 Chapel Studios, Bushey, Herts'. Frank was very versatile in his range of subjects and his style changed after the Great War when his palette became much brighter and when he was known locally in the 1920s as "the sunshine artist".
Some comments on the picture: "The fountain shown was erected in Trafalgar Square in 1845 to a design of Charles Barry, but was replaced in the late 1930s with designs by Sir Edwin Lutyens (the ones that we know so well today). On the right side of the painting can be seen a popular form of transport in the late Victorian times of passengers riding in the top of the double decker horse drawn omnibus."
[Thanks to Hugh Bedford for this information.]
Portfolio (in Bushey Museum collection)