These pages feature Biographies of artists from Bushey, including those who went to Herkomer's Art School and other local Art Schools. We plan to add more Biographies over time - any contributions will be gratefully received! Click on the names on the left to see their Biography.
Frank Gascoigne Heath
1873 – 1936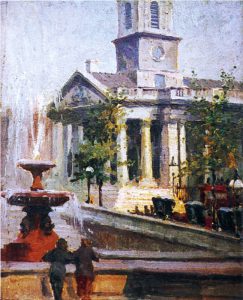 Frank Gascoigne Heath was a student at Herkomer's Art School from 1897 to 1900. He then moved to Cornwall (Newlyn, Polperro and Lamorna) where he lived for the next 35 years. There is an impressive website www.frankheath.com which includes illustrations of around 100 of his works, including "St. Martin in the Fields Church" which he painted while he was a student at the Herkomer Art School. On the reverse of the painting is written the address '6 Chapel Studios, Bushey, Herts'. Frank was very versatile in his range of subjects and his style changed after the Great War when his palette became much brighter and when he was known locally in the 1920s as "the sunshine artist".
Some comments on the picture: "The fountain shown was erected in Trafalgar Square in 1845 to a design of Charles Barry, but was replaced in the late 1930s with designs by Sir Edwin Lutyens (the ones that we know so well today). On the right side of the painting can be seen a popular form of transport in the late Victorian times of passengers riding in the top of the double decker horse drawn omnibus."
[Thanks to Hugh Bedford for this information.]
Portfolio (in Bushey Museum collection)